Port of Los Angeles cuts emissions from ships, harbor craft and cargo handling equipment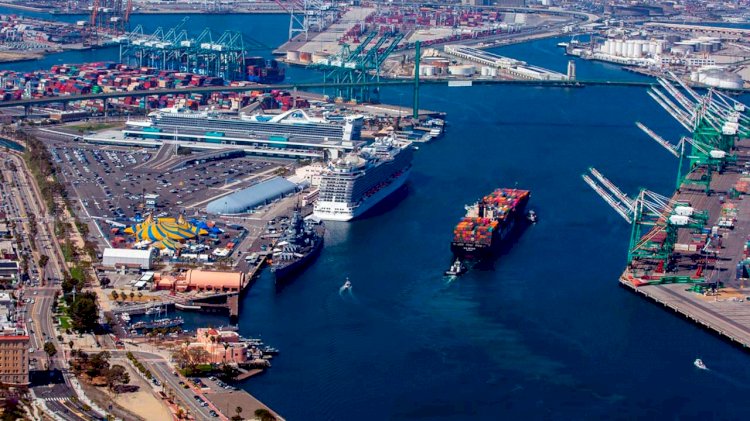 Photo: Port of Los Angeles
The Port of Los Angeles continues to make progress cutting emissions from ships, trains, trucks, harbor craft and cargo handling equipment since 2005, according to its 2018 Inventory of Air Emissions Report. Additionally, the report shows the Port is meeting and exceeding all 2023 targets for reducing primary pollutants while cargo volumes continue to rise.
Port of Los Angeles Executive Director Gene Seroka said:
"Even as cargo has increased 26 percent since the baseline year of 2005, we've sustained the remarkable clean air gains we've made since then. Our goal remains getting to zero emissions, which is why we're focused on working with our partners on operational efficiencies and next-generation near-zero and especially zero emissions solutions, so our port, community and environment can thrive together."
The Port's Clean Air Action Plan (CAAP) compares emissions reductions for each calendar year to the 2005 baseline year to track progress toward CAAP goals. While 2018 container throughput rose to a historic high of nearly 9.46 million TEUs (twenty-foot equivalent units), up from 9.34 million TEUs in 2017, nitrogen oxides (NOx) emissions are still 60% below 2005 levels, with an actual year-to-year decrease from 2017 of 1%. Sulfur oxides (SOx) emissions remain 98% below 2005 levels, with an actual year-to-year decrease from 2017 of 2%.
Diesel particulate matter (DPM) emissions remain at 87% below 2005 levels, though actual emissions of DPM increased slightly from 2017 by 1%. Greenhouse gas (GHG) emissions are down 10% below 2005 levels, up 3% from 2017 levels.
Port Director of Environmental Management Christopher Cannon said:
"The annual increases are not surprising given the 1.3% growth in container cargo volume since the previous year. They underscore the importance of further reducing combustion-based engine technologies in heavy-duty equipment in port operations and ultimately moving toward widespread use of zero emission technologies to achieve continued GHG reductions."
The Port is currently leading or participating in 16 projects with multiple partners to demonstrate near-zero and zero emissions engines, emissions control technology, and alternative fueling and charging stations. The projects include testing hybrid and fully battery-electric, natural gas and hydrogen fuel cell heavy-duty trucks; battery-electric forklifts, yard tractors, top handlers and rubber-tired gantry cranes; and emissions control equipment on large ships and harbor craft. All demonstrations are conducted in real-world operating conditions in and around the San Pedro Bay ports.
Cannon said:
"These projects are among our most ambitious clean air initiatives to date. Year-to-year emissions may fluctuate as we develop, assess and implement these initiatives, but as we reduce or eliminate combustion, we move the needle closer to zero."