Port of Brunswick welcomes Gold Star service from Mexico
A new, short sea service linking Mexico to the Port of Brunswick has launched, with the first shipment of more than 1,000 vehicles delivered through the national gateway earlier this month.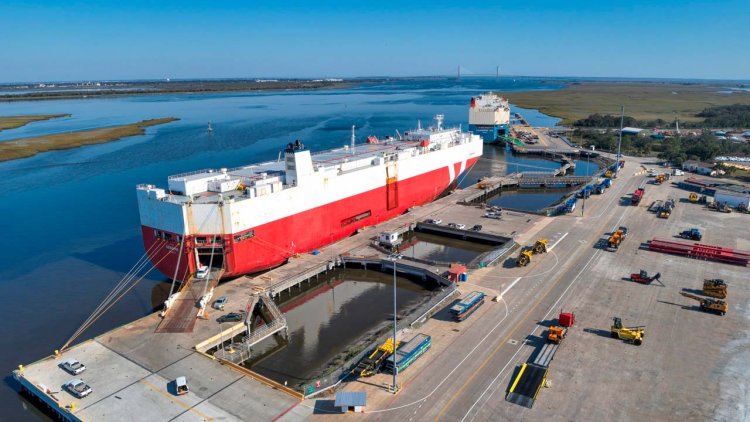 The Gold Star service offering from Zim delivers more timely, efficient, and secure delivery of Roll-on/Roll-off cargo compared to shipping overland, port officials said.
"We are proud to welcome this new service, a key option for automotive manufacturers looking for a fast, secure link when shipping into the U.S. via manufacturing sites in Mexico," said Bruce Kuzma, VP of Trade Development, Ocean Carrier & Non-Container Sales at the Georgia Ports Authority.
The Gold Star Service's maiden vessel, the Sebring, called on the Port of Brunswick during the first week of November, marking a new route for carmakers to ship vehicles into the national gateway for autos and machinery.
The Port of Brunswick is currently experiencing a major increase in cargo volumes, as the Georgia Ports expands infrastructure there to establish the gateway as the No. 1 Ro/Ro port in the nation.
In September alone, the Port of Brunswick's Colonel's Island Terminal saw a monthly volume increase of 61 percent, handling 70,645 units of Ro/Ro cargo compared to 43,900 units the same month last year.
The Port of Brunswick is currently undergoing more than $262 million in improvements, with upgrades including 640,000 square feet of auto and machinery processing space across five new buildings, including 350,000 square feet of near-dock warehousing; and an additional 122 acres of Roll-on/Roll-off cargo storage space.
"It's an exciting time for Georgia Ports as we continue to invest in the Port of Brunswick to meet our customers' evolving supply chain needs," Kuzma added.
GPA is pursuing a two-pillar strategy to specialize and scale operations for customers, with the Port of Brunswick handling all Roll-on/Roll-off cargo and the Port of Savannah all container trade.