North West Marine expands its fleet with the arrival of the JIF MAIRI
This multi-purpose vessel, built by NEPTUNE SHIPYARD in Holland, was designed for the specific needs of aquaculture, NORTH WEST MARINE's core business line.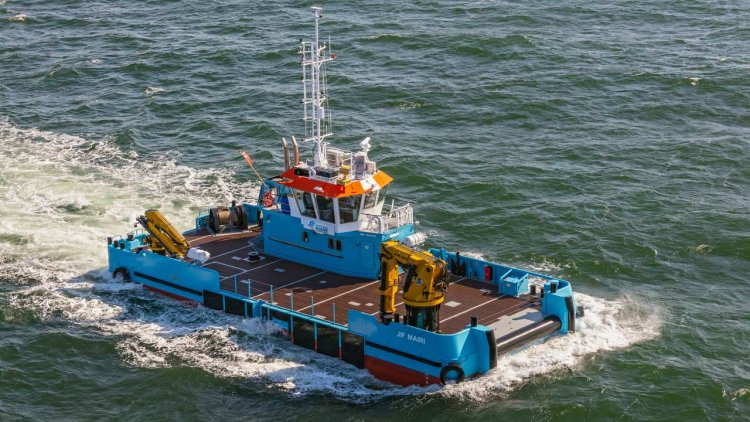 Photo: JIFMAR
NORTH WEST MARINE, the Scottish subsidiary of JIFMAR OFFSHORE SERVICES, specialized in aquaculture, is expanding its fleet with the arrival of the JIF MAIRI.
This 24-meter-long and 9-meter-wide vessel has been completely redesigned, starting with the cranes. These have both been placed to starboard to facilitate work near the fish cages. In order to accommodate all the equipment necessary for the maintenance of the cages, the central winch has also been moved behind the castle, which offers a large free deck area of 150m2.
Also on the starboard side, D-fenders were installed to avoid amaging the nets. The vessel also has a "imbed" ladder to provide safe and convenient access for divers.
Tony RATCLIFFE, General Manager at NORTH WEST MARINE, says:
"We wanted to create a vessel that could meet 100% of the needs of our customers in the aquaculture sector. It's a great tool for our sailors, which will be a huge asset to our customers."
Like all the vessels in the Group's fleet, this vessel will also be capable of carrying out missions in ports, towing, diving support, ROV support, wreck recovery and much more.
Affirms Jean-Michel BERUD, CEO of Jifmar Offshore Services, said:
"We wanted to keep for this vessel the versatility that is the strength of our fleet. The evolution of design to meet the specific needs of aquaculture should not come at the expense of other functions performed by an Eurocarrier. Thanks to the numerous exchanges between our Scottish and French teams and the shipyard, we have succeeded in this challenge."
JIF MAIRI will start its first long-term contract at the end of April.