Havila Voyages orders two new coastal route vessels from Tersan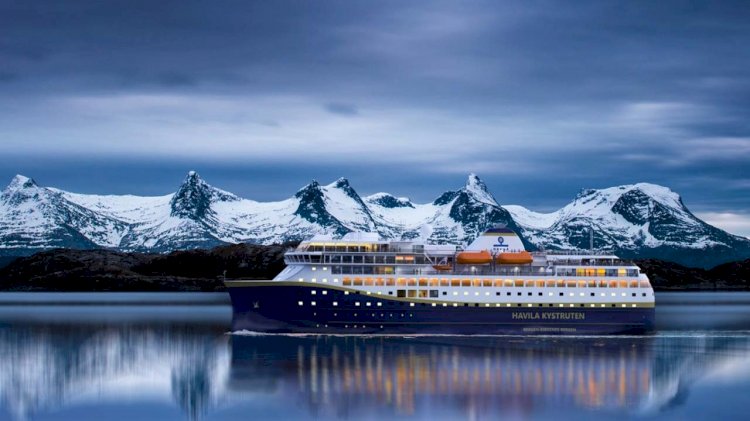 Photo: Havila Voyages
Havila Voyages has signed a contract with the Turkish shipyard Tersan for the construction of the last two coastal route vessels. Construction will commence in just a few weeks.
From 2021, Havila Voyages will operate four vessels on the classic voyage between Bergen and Kirkenes. Construction of the two vessels at the Spanish shipyard Barreras was brought to a halt due to the shipyards financial problems. Two vessels are under construction at Tersan in Turkey, and Tersan has now also received a contract for the construction of vessels three and four. Construction will start in just a few weeks and delivery is scheduled towards the end of 2021.
CEO of Havila Voyages Arild Myrvoll says that Tersan has the capacity to start the construction process soon and that the yard has all the documentation they need in addition to experience from the first two vessels:
'What we have seen of Tersan so far in terms of its construction of the first two vessels looks very promising. They stick to the schedule and their work is high quality.'
Myrvoll points out that Havila Voyages and Tersan are preparing the ground and clarifying the details of the two first vessels. Arild Myrvoll says:
'This has several advantages and gives us confidence that the third and fourth vessels will be at least as good as the first two.'
Despite the uncertainty of the situation regarding the Spanish yard Barreras, Havila Voyages has sufficient equity and loan approval to fully finance all four vessels at Tersan.
Myrvoll says that Barreras's financial problems and the suspension of construction at the Spanish yard have led to challenges for Havila Voyages that will affect early operations:
'Two new vessels will be delivered and are scheduled to sail from January 2021. These will give our passengers the most environmentally-friendly voyages along the Norwegian coast. While we wait for the next two vessels, we will use replacement vessels, and provide good and safe transport and meet our customers' expectations.'
Havila Voyages has inspected several potential replacement vessel candidates, and the company is in ongoing commercial dialogue with stakeholders. Arild Myrvoll adds:
'We expect a decision to be made soon, but will take the time necessary to ensure that we can provide the best solutions to both our passengers and crew, even if the replacement vessels are only used for a limited period.'