Floating PV is flooding South East Asia's power mix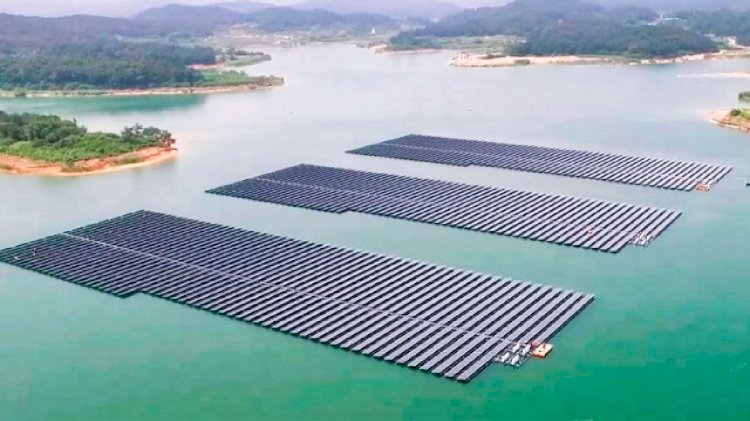 Floating photovoltaic (PV) panels are making a splash in South East Asia, where gigawatts (GWac) worth of utility-scale solar power are planned in the coming years. Development plans are in the works in Thailand and Vietnam as large-scale floating PV installations, with smaller utility-scale floating PV developments being proposed in Indonesia, Singapore and Myanmar.
Rystad Energy expects large-scale floating PV developments, typically installed on dams and reservoirs, to increase one hundred-fold in South East Asia over the next five to 15 years as countries in the region look to substantially increase their share of renewable energy in the power mix. This will open new market opportunities to both new and existing players in the industry.
Minh Khoi Le, an analyst on Rystad Energy's renewables team, says:
"Floating PV offers an attractive alternative for large and mega-scale ground-mounted utility solar development, allowing beneficiaries to take advantage of under-utilized dams and reservoirs. We expect floating PV capacity to grow from current levels of 0.04 GWac to 3 GWac in the next 10 years. After a ground-mounted solar boom, Thailand is now turning its sights to floating PV."
The country is taking the lead in Southeast Asia and currently has several developments in the pipeline, with the floating PV setups to be installed at nine different hydroelectric dams. The Electric Generating Authority of Thailand (EGAT) plans to conduct tenders for each phase, the first of which closed on 20 August 2019. Currently the country has no operational large-scale floating PV capacity, making this an ambitious plan.
Although the country's pipeline for floating PVs is smaller than Thailand, Vietnam currently has the largest operational floating PV plant in the region with 39 MWac of capacity, commissioned in May 2019. More projects are in the works across the region, with proposals being tendered in Indonesia and Singapore.
Floating PV plants are an advantageous option for land-scarce South East Asian countries to continue developing utility-scale solar power. Mostly proposed on hydroelectric dams and reservoirs, these PV plants will be able to connect to the grid using the connection points already available at hydroelectric facilities. This somewhat mitigates grid overload issues that often plague PV development and creates possibilities for the hybridization of power plants, promoting greater grid stability and flexibility.
Minh adds:
"Currently-operating installations in the region are small, producing under 50 MW, making these planned floating PV setups even more impressive."
About Rystad Energy
Rystad Energy is an independent energy research and business intelligence company providing data, tools, analytics and consultancy services to the global energy industry.