DNV GL supports 50 MW floating solar project
DNV GL acts as technical advisor for south-east Asia's largest floating PV public tender at Singapore's Tengeh Reservoir.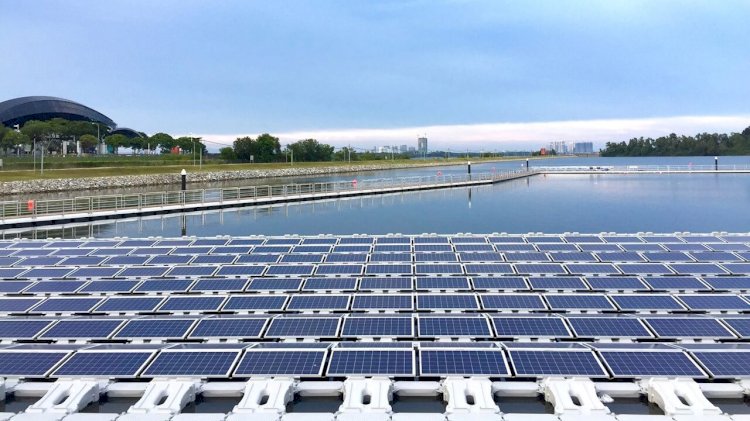 DNV GL has been contracted by PUB, Singapore's national water agency, as technical advisor for the 50 MW floating solar photovoltaic (PV) project at the Tengeh Reservoir in Singapore. On the completion, the floating solar project will be one of the largest single floating solar systems in the world. The project is south-east Asia's largest public tender for floating PV to date and will feature a pioneering business model consisting of both conventional and renewable energy components.
DNV GL will support PUB throughout the tender preparation, bidding, design, construction and operational phases of the project. The Tengeh Reservoir floating solar PV project is due to be operational by 2021. It will power the reservoir's water treatment facilities, eliminating 28,000 tonnes of carbon dioxide emissions per year – the equivalent of about 6000 cars.
Despite having limited renewable energy options, Singapore has made firm commitments to reducing its greenhouse gas emissions. Solar power is the country's most viable renewable energy source. In such a densely populated country, the emerging technology of floating PV offers an attractive way to optimize the use of space while increasing the level of green energy.
On June 7, PUB launched a public tender to seek proposals to design, build, own and run the 50MW floating solar PV Project at Tengeh Reservoir. As part of this process, DNV GL's local energy experts have been tasked to carry out preliminary design, independent energy assessment, technology benchmarking and business model studies which have now been completed.
This is the first utility-scale public tender for floating PV in south-east Asia and PUB has appointed DNV GL as technical advisor for the next phase of the project. It will include providing tender support and proposal evaluation during the bidding phase. Subsequently, DNV GL will also carry out design reviews, testing and commissioning reviews during the construction phase as well as performance analysis and site testing when the project is operational.
"DNV GL has a strong track record in floating PV projects, having worked on close to 800MW of projects in the Asia Pacific Region," The scale of the Tengeh Reservoir project makes it an important milestone in the development of this rapidly emerging technology. We are looking forward to bringing our expertise across various forms of energy generation to this project and support the Singaporean government in meeting its ambitious solar generation targets."
said Nicolas Renon, Executive Vice President Asia Pacific, at DNV GL – Energy.