Brittany Ferries ship Kerry embarked on her inaugural direct sailing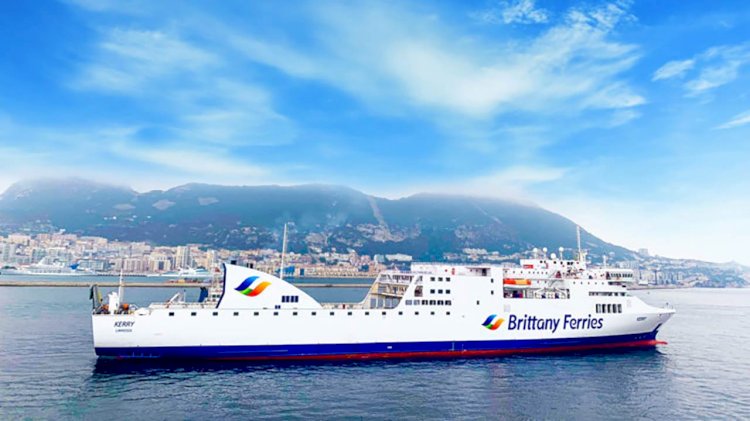 Photo: Brittany Ferries
Brittany Ferries ship Kerry embarked on her inaugural direct sailing from Rosslare Europort to Bilbao on Friday, 28th February.
The new route out of Rosslare has been welcomed by hauliers given the port's proximity to Dublin and the east coast road network. Equally hauliers operating on the European mainland have welcomed the move to Bilbao, a port more attuned to freight traffic with easier transport links into the Iberian Peninsula.
While primarily aimed at the freight market into Europe, the route will also carry holidaymakers to both Spain and France. It will be part of Brittany Ferries 'économie' service, offering a comfortable, no-frills voyage. Sailings will be twice-weekly and will incorporate a weekly Ireland/France rotation (schedule included below).
Speaking at the launch of the new route, Brittany Ferries Group Freight Director, Simon Wagstaff:
"I am delighted to be here for the first Brittany Ferries sailing from Rosslare. Since we opened operations linking Ireland and Spain in 2018 we have listened carefully to feedback from freight customers, on what is predominantly a route for commercial traffic. The clear message was that a move to Rosslare would help them and us deliver a more attractive option to the UK landbridge. We now operate from two ports in Ireland, reinforcing our commitment to the country, its people and its economy."
Glenn Carr, General Manager, Rosslare Europort added:
"We are delighted to welcome Brittany Ferries' Kerry to Rosslare Europort today. We look forward to working with Brittany Ferries to building a successful partnership to serve freight and passenger customers. The decision to introduce this service not only shows the appeal of Rosslare Europort to shipping lines, freight and tourism customers, but also is the first of what we intend to be a number of new business announcements, building on our €25 million investment plans in port facilities, infrastructure and technology.

Rosslare Europort is Ireland's closest port to mainland Europe, and is now the only port outside of Dublin with a Border Inspection Post facility, and will provide the quickest direct services for exports and imports to both Europe and the UK post-Brexit."