Vega to tackle fleet cyber-security with Inmarsat fleet secure solution
The ship-manager has selected Inmarsat's comprehensive solution for network protection, with its fleet set to double in size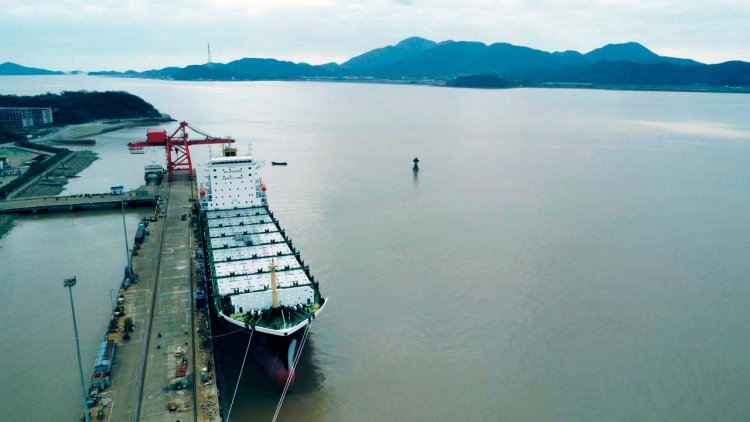 Inmarsat has secured an agreement with long-standing Fleet Xpress customer Vega-Reederei (Vega) to install Fleet Secure Unified Threat Management (UTM) across the Hamburg-based ship manager's fleet of existing and newbuild vessels.
The deal represents a proactive move to secure Vega's fleet against growing cyber threats while achieving regulatory compliance, as the company rejuvenates with four 1,868 TEU eco-consumption newbuilds and plans to add more new ships to expand in the security sensitive European coastal services by 2024.
A 2022 study by Inmarsat and partner Thetius showed almost half of the 200 maritime businesses surveyed reporting that they had suffered a cyber-attack in the previous three years. Three per cent of those attacks resulted in a ransom being paid by the victim to the attacker, at an average cost of $3.1 million. Even without the payment of a direct ransom, the costs to shipping from cyber threats averaged $1.8 million per year over the study period.
Henrik König, Company Security Officer at Vega said:
"Although our vessels have not so far fallen victim to cyber-crime, we are aware that both the frequency and severity of network attacks in shipping are growing fast. As our fleet grows, this threat becomes more significant and difficult to manage. Through Fleet Xpress and Fleet Secure UTM, Inmarsat offers the global coverage and cyber-security capabilities required to keep our managed fleet safe from the risks of an increasingly connected maritime industry."
Fleet Secure UTM is a part of Inmarsat's wider cyber-security offering available through Fleet Xpress. The solution is a comprehensive suite of network security tools designed to protect the vessel network in its entirety. By intelligently scanning all connected networks for malicious traffic, UTM safeguards against cyber-attacks and intrusion from infected devices. It also provides real-time digital security status updates, allowing users to monitor and mitigate network threats as they arise.
Crucially for ship managers like Vega, the solution is backed by Inmarsat's dedicated Cyber Security Operations Centre (CSOC), which offers round-the-clock human support in addressing customers' security concerns. The CSOC deploys a range of industry-leading technologies to monitor and detect threats – including the latest methods of attack – across Inmarsat's core infrastructure, networks, and services. Any irregular activities are investigated by in-house cyber-security experts.
Scott Middleton, Regional Director North Europe Inmarsat Maritime, said:
"With Fleet Secure UTM, Vega meets not only the International Maritime Organization's 2021 requirements on cyber security but also the expectations of its customers, the owners of its managed vessels, who can now rest assured that their ships are comprehensively protected from cyber threats. We would like to thank our partner, Port-IT for its ongoing support with this project and development of Fleet Secure UTM."