SMST enters into first W2W contract with DOF Subsea
Recently, SMST has signed a contract with DOF Subsea for the deployment of a motion compensated gangway from the SMST rental fleet.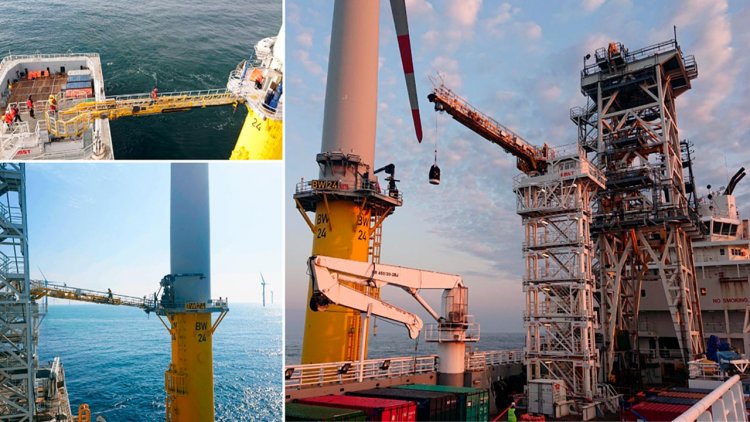 Photo: SMST
The contract marks SMST's first delivery of walk-to-work equipment to the Norwegian offshore company. Since a few weeks, DOF is already operating the gangway on board their multipurpose vessel Skandi Constructor, ensuring safe and efficient walk-to-work of their crew and cargo in the Global Tech 1 offshore wind farm.
Beginning of April, the commissioning team of SMST travelled to FAYARD, the shipyard near Odense (Denmark), for the mobilization of the gangway, the SMST Telescopic Access Bridge M-Series (TAB-M). In wintry conditions, the TAB was installed on 6 stacking modules for working on height up to over 24 meters. Subsequently, the vessel's crew was trained by SMST for operating the gangway in the Global Tech 1 offshore wind farm, for a term of up to 120 days.
Øyvind Våge, Chartering Manager at DOF Management AS, says:
"Flexibility is key for our project and SMST fits in perfectly with it. Their equipment easily adheres to the requirements of the two different projects for Siemens Gamesa. The collaboration between our two companies is also excellent. Together we achieved a very swift mobilization of the gangway. A great effort by all parties involved."
After the first project in the North Sea for Siemens Gamesa, the Skandi Constructor will continue its work in the Baltic Sea, in the Wikinger offshore wind farm. The SMST commissioning team will remobilize in Bremerhaven for this second project. SMST is glad to be back in this wind farm, where the road to success has started in the rental gangway business back in 2016.
Menno de Jong, Sales Manager at SMST, says:
"We are very pleased with DOF's trust as a new partner for our rental gangways, and also with the recurring confidence in our equipment by Siemens Gamesa. We will do our utmost to ensure maximum safety and efficiency regarding their walk-to-work operations."