RWE's Sofia offshore wind farm to use recyclable blades
RWE's largest offshore wind farm in construction - Sofia - enters agreement with Siemens Gamesa for recyclable blades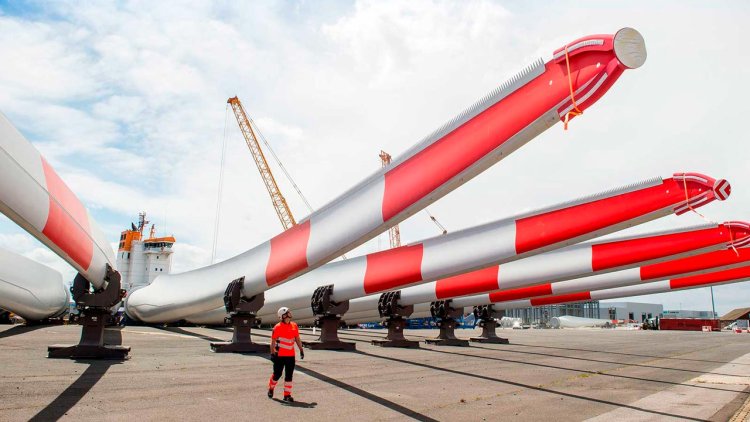 RWE announces that its UK flagship offshore wind project Sofia, in construction off the North East coast, has signed an agreement with Siemens Gamesa to deploy recyclable blades on 44 of its 100 turbines.
This follows the successful installation of recyclable blades at RWE's Kaskasi wind farm off the German island Heligoland.
In total, 132 individual recyclable blades will be installed at the 1.4 gigawatts (GW) offshore wind project. This is the maximum available given the current market capacity for the new specialist resin used in the blades.
Sven Utermöhlen, CEO RWE Offshore Wind:
"Sofia is our largest offshore wind farm to date and this world first is a significant step in taking the long-term sustainability of offshore wind farms to the next level. RWE believe this is the right direction for the future of our sector, which has sustainability at its core."
Clark MacFarlane, UK Managing Director, Siemens Gamesa:
"When we began working with RWE on installing our recyclable blades for their Kaskasi project, we knew that we had taken the first major steps on delivering a major change to the renewable wind sector. Having the opportunity to produce even more for Sofia is fantastic and fully demonstrates our and RWE's focus on developing and delivering even greater levels of sustainability for renewable generation globally."
While many components of a wind turbine, such as the tower and nacelle, already have established recycling practices, the composite materials used in wind turbine blades have been more challenging to recycle. This difficulty is primarily because they use a specific resin to bind all their elements together.
In its recyclable blades, Siemens Gamesa will use a new resin type, with a chemical structure that can be efficiently separated from other elements. The process protects the properties of the materials and so allows them to be reused in new casting applications, for example in the automotive industry, or in consumer goods like suitcases and flatscreen casings.
As part of the agreement, 50 percent of Sofia's turbine blades will be produced in the UK at Siemens Gamesa's Hull factory. This supports local supply chain ambitions and reinforces the growing role the Humber region has to play in supplying the growing offshore wind industry.
Other technologies are being developed to recycle conventional turbine blades that reach the end of their lifecycle. However, these new blades, made recyclable from the outset, represent a key next step in terms of maximising sustainability and environmental benefits.