Hapag-Lloyd is also to sail on LNG
The Hapag-Lloyd-owned 15,000 TEU container ship Sajir is currently being upgraded to run on LNG (liquefied natural gas) instead of fuel oil. It is the first retrofit of this scale.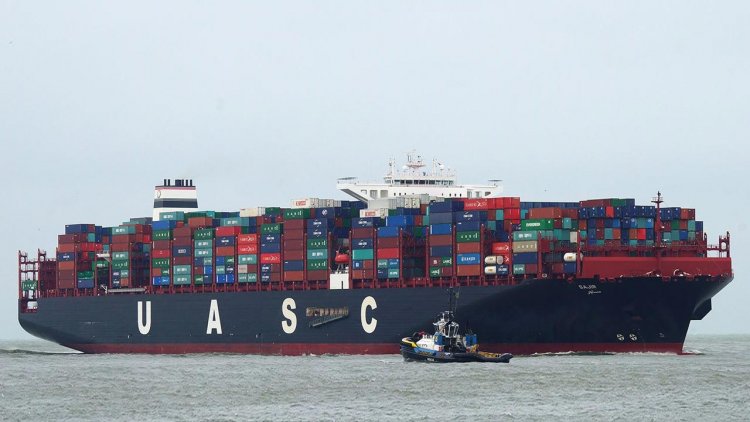 Photo: Kees Torn
When the vessel was commissioned in 2015, the then owner, UASC, presented Sajir as 'LNG-ready'.
Nevertheless, Hapag Lloyd estimates the cost of this retrofit to be around €35 million, according to Ship & Bunker. Hapag Lloyd – which merged with UASC in 2017 – operates another 16 LNG-ready container ships. Sajir's performance will need to prove whether it qualifies for the retrofit.
According to Ship & Bunker, Sajir will bunker LNG in both Rotterdam and Singapore, where it will be a customer of FueLNG Bellina, a joint venture between Keppel Offshore & Marine and Shell Eastern Petroleum. This is Singapore's first LNG bunkering vessel for these types of ships.
In addition to the retrofit, Hapag-Lloyd has also ordered six LNG-powered 23,500+ TEU ships from the Korean shipyard Daewoo Shipbuilding and Marine Engineering. The vessels will be delivered between April and December 2023, and they will also bunker LNG in Rotterdam.
Hapag-Lloyd is the second major container carrier to use LNG as a marine fuel. In June 2020, the CMA CGM Jacques de Saade arrived in Rotterdam. This 23,000 TEU container ship is also LNG powered and the first in a series of nine in this class. MOL collaborated with Total on the development of Gas Agility specifically to promote this energy transition in the shipping industry. This LNG-bunkering vessel will bunker French container ships in Rotterdam.