GEV to develop 2.8 GW green hydrogen export project
The Tiwi Hydrogen Project will deliver a fully integrated green hydrogen production and export supply chain, commencing with a fleet of GEV's 430t compressed hydrogen ships.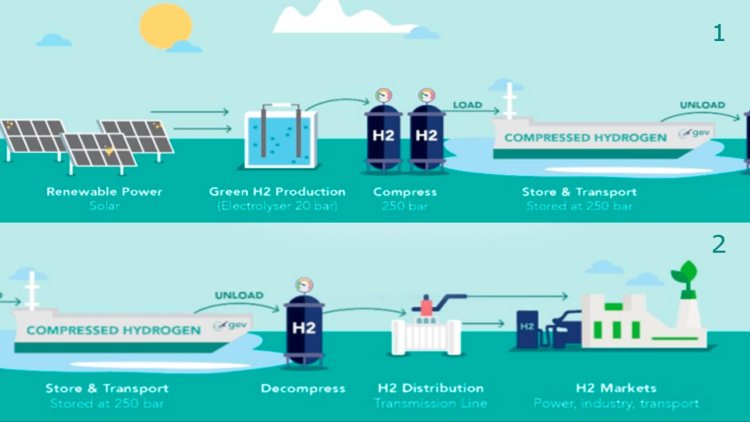 GEV to develop a green hydrogen export project located on the Tiwi Islands, Northern Territory, with a phased capacity up to 2.8 GW (the Tiwi Hydrogen Project), producing up to 100,000 tonnes per annum of green hydrogen for export into the Asia-Pacific region.
Selection of the Tiwi Islands location provides a brownfield site that can reduce development time and cost, as well as access to one of the closest Australian ports (owned by AusGroup Limited's NT Port and Marine) to the future demand markets in the Asia-Pacific region.
The integration of GEV's innovative compressed hydrogen shipping solution enables a phased development and construction timeframe, thereby benefiting from the continued decline of the capital and operating costs for solar generation, electrolysers and shipping.
The Tiwi Hydrogen Project has the support of key stakeholders, including the Tiwi Land Council, the Munupi Landowners, NT Port and Marine and the Northern Territory Government.
Development milestones of the Tiwi Hydrogen Project will run in parallel to GEV's ship engineering and class approval program, with a financial investment decision targeted for 2023 for the initial phase being 0.5 GW, allowing first hydrogen export to commence in 2026, subject to all commercial and regulatory approvals and customer offtake.
Martin Carolan, GEV Managing Director and CEO commented:
"The strategic rationale for GEV to develop a landmark upstream renewable energy and green hydrogen production project is to demonstrate the simplicity and efficiency of using compression for a pipe-to-pipe green hydrogen supply chain and to provide greater certainty in the commercialisation of our shipping solution. This project can transition GEV from a midstream service provider to an innovative hydrogen company."
Northern Territory Government Minister for Renewables and Energy, Hon Eva Lawler commented:
"With our world-class solar resources and our proximity to key export markets, the Northern Territory is an ideal place to generate renewable hydrogen to meet the future demand within our region."
LOCATION: the Tiwi Islands are located along the northern most part of Australia, providing GEV with a strategic location for regional shipping to the emerging hydrogen markets across the Asia-Pacific, including Singapore, Indonesia, South Korea and Japan.
HIGH SOLAR CAPACITY / INTENSITY: the proposed 1,800 hectare solar site has been assessed to have the potential for 2.8 GW of solar generation, in a region of high solar intensity.
TRADITIONAL LAND OWNERSHIP: there has been an unbroken history of occupation and ownership of the Tiwi Islands by Tiwi people. Therefore, there are no native title issues for GEV to address, with a clear and established process for GEV, the Tiwi Land Council and Munupi Landowners to negotiate a Section 19 Lease/Licence for the proposed solar site.
LOW ENVIRONMENTAL IMPACT: the proposed solar site is existing plantation land, previously cleared of native vegetation and currently used for commercial plantation. The proposed solar site represents only 6% of the existing plantation area and only 0.3% of Melville Island land area. In regard to water supply for the initial phase of the project, the electrolysers are anticipated to consume up to 550 m3/day of demineralised water for hydrogen production. Small-scale desalination facilities will be installed (seacontainer sized), with GEV also seeking to maximise the potential of local water catchment.
PORT INFRASTRUCTURE: there is availability and access to existing port infrastructure and industrial precinct at Port Melville (owned by AusGroup Limited's NT Port and Marine), capable of berthing GEV's fleet of compressed hydrogen 430t pilot scale ships. GEV to introduce its full scale 2,000t ships as required to match future supply and demand.
COMPRESSION: utilising compression as the method to load, store and transport hydrogen avoids the complex and capital intensive process to 'pack and unpack' pure hydrogen gas required by other carriers such as LH2, NH3 or LOHC. This is an important consideration for the customer end of the supply chain.
NT GOVERNMENT SUPPORT: GEV has the support of the Northern Territory Government, and GEV will seek federal infrastructure funding and support given the new, sustainable industry and economic opportunities for the indigenous communities on the Tiwi Islands and Territorian people in general.