Fugro supports Ignitis Renewables with seabed survey
Ignitis Renewables, an international green energy company, has awarded Fugro a contract to conduct a geophysical survey at Lithuania's first offshore wind farm site.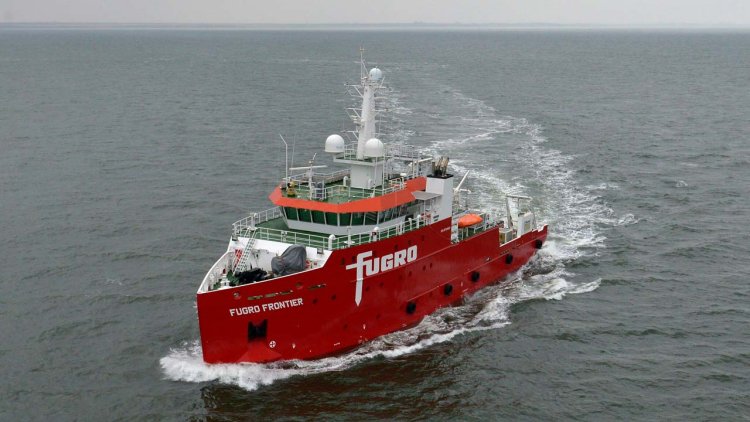 Photo: Fugro
This critical step in the project's development aims to enhance the understanding of seabed conditions, which will inform the location, construction and design of future wind turbines at the Baltic Sea.
Fugro's designated geophysical survey vessel, the Fugro Frontier, is currently on-site in the Baltic Sea surveying the 120 square-kilometre area, collecting 2D ultra-ultra-high-resolution (UUHR) sub-surface data, as well as bathymetry, sidescan sonar, and magnetometer data.
The 2,000 survey line kilometres of high-quality data collected will be crucial for characterising the site and identifying potential risks to an offshore wind farm development in this area. These insights will inform the selection of future geotechnical investigations and help create a detailed ground model that Ignitis Renewables will use to determine the optimal wind turbine foundation design and locations.
"We are pleased to partner with Fugro, one of the leading authorities in the field, as the information gathered from these surveys brings us another step closer to making the first offshore wind farm in Lithuania a reality. The geophysical data acquisition is a critical milestone in our preparatory phase, laying the groundwork necessary to initiate construction on schedule," stated the Head of Offshore Development at Ignitis Renewables Vytautas Rimas.
"Our commitment to delivering comprehensive, reliable Geo-data, combined with our expertise in challenging geology and offshore conditions, will help derisk future phases of this development. We look forward to contributing to the success of Lithuania's clean energy goals and to continue our tradition of providing valuable services to our clients," said Alvydas Uždanavičius, Fugro's Lithuania Country Manager.
Scheduled to begin operations by 2030, the 700 megawatt (MW) offshore wind farm will generate up to 3 terawatt-hours (TWh) of electricity annually, which would meet up to a quarter of Lithuania's current electricity demand.