Explora Journeys celebrates two new milestones
A double milestone celebrated today at Fincantieri's Sestri Ponente (Genoa) shipyard with the float out and steel cutting of the two new units from the new luxury cruise brand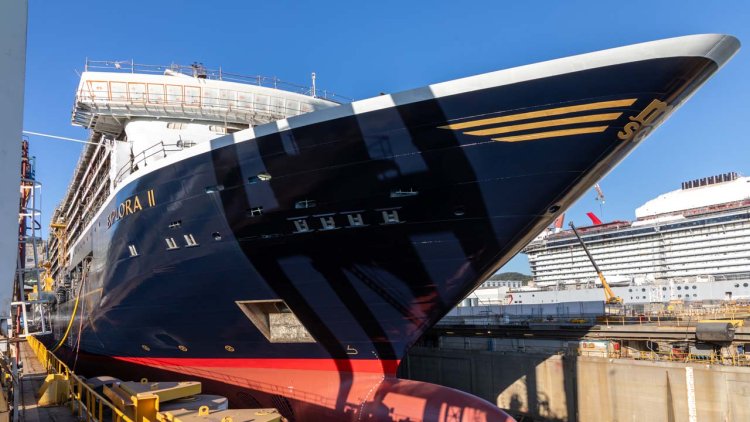 Just two months after the delivery of EXPLORA I, which took place in Monfalcone on 20 July 2023, the construction of the fleet of Explora Journeys, the luxury lifestyle brand of the MSC Group, is further progressing. Today the brand celebrated two maritime milestones during a double event at Fincantieri's Sestri Ponente shipyard near Genoa in Italy.
During the ceremony, the brand celebrated both the float out of EXPLORA II and the steel cutting of EXPLORA III, representing the second and third ships out of a total of four ordered by Explora Journeys.
EXPLORA II will enter service in Summer 2024 and construction of the GT 63,900 vessel began in October 2021 at Fincantieri's Castellammare di Stabia yard in Naples, Italy where the ship's keel was laid in May 2022.
The float out is a traditional maritime event that represents a significant moment in the construction of a new ship as it is the first time that the ship will touch water and will then enter the final phases of construction to complete interiors, fixtures and fittings.
The ceremony was attended by the main Ligurian and Genoese authorities, including the President of the Liguria Region Giovanni Toti and the Mayor of Genoa Marco Bucci.
EXPLORA II will embark on her maiden journey in the summer of 2024, spending her first season in the Mediterranean discovering the most striking locations of the Mare Nostrum, including Italian destinations such as Portofino, Argentario, Rome, Sorrento, Palermo, Syracuse, Trapani, Lipari, Cagliari, Alghero, and the Emerald Coast.
With the traditional steel cutting ceremony, the brand marked a celebration of the construction of EXPLORA III, which will enter service in summer 2026 and will be the first of the Explora fleet to be powered by liquefied natural gas (LNG) - the world's cleanest maritime fuel available at scale, playing a key role towards the decarbonisation of international shipping.
LNG can almost completely eliminate emissions such as sulphur oxides (99%) and nitrogen oxides (85%). LNG also plays a key role in climate change mitigation as it can reduce greenhouse gas emissions by up to 20% and will enable a pathway to the use of additional sustainable non-fossil fuels, such as bio and synthetic forms of LNG.
All of the Explora Journeys vessels will be equipped with the latest environmental and marine technologies, including selective catalytic reduction technology, shore power plug-in connectivity, underwater noise management systems to help protect marine life, and a comprehensive range of onboard energy efficient equipment to optimise engine use to further reduce emissions.
In January 2024, construction will begin on EXPLORA IV, also fuelled by LNG, which will be completed in early 2027.