ESVAGT's new SOV for Vestas is ready
ESVAGT's SOV newbuilding is now ready to start working for Vestas at Borssele 3-4 and Northwester 2 wind farms.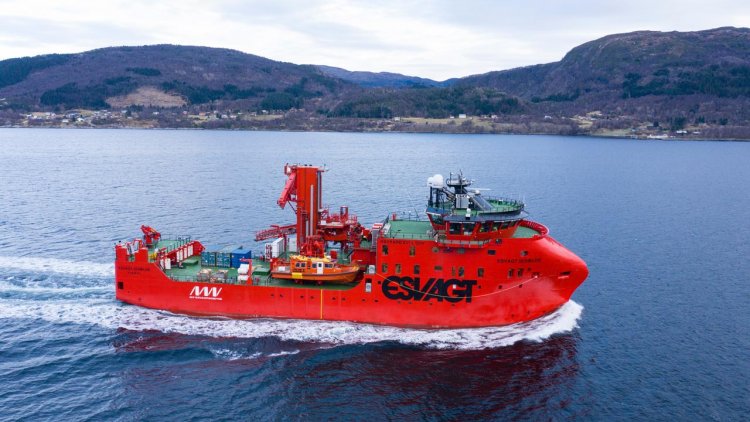 Photo: ESVAGT
Despite both a lengthy corona shutdown and financial problems for the shipyard, ESVAGT's SOV newbuilding is now ready to start working for Vestas at Borssele 3-4 and Northwester 2 wind farms.
NHST-146, the first of three SOV newbuildings for Vestas, is ready and accepted by the Class and by ESVAGT, and has been ready at its base port in Oostende since January 8th.
Prior to the vessel completion was an atypical process, says Project Director Gerner Eskelund:
'Firstly, Havyard Shipyard was affected by an financial crisis that stopped work at the shipyard for months. Work on several of the more essential parts of the vessel had to wait – for example parts of the electrical equipment, and the work could only be resumed after a renegotiation with banks and with the shipyard. Fortunately, construction of the three hulls continued in Turkey at Cemre Shipyard.'
This lasted until the fall, when the shipyard in Norway unfortunately was forced to shut down due to Covid-19. In total, around 20% of the shipyard's workers got tested positive, and the shipyard had to wait several weeks before reopening, once the health authorities had introduced a series of intensified guidelines re. control and work processes.
The hurdles have meant that the vessel is now ready to start its charter a couple of months behind schedule – not as planned, admits Kristian Ole Jakobsen, DCEO at ESVAGT, but:
'We are thankful for having such strong partners in Vestas, Cemre Shipyard, Havyard Design & Solutions and New Havyard Ship Technology, who have all shown understanding, flexibility and a strong will to pull together when needed.'
SOV NHST-146 is the first of three newbuildings for Vestas. The vessels will be operating in the wind farms Borssele 3-4 (NL), Northwester 2 (B), Triton Knoll and Moray East (both UK), and will in total contribute to delivering more than 2,500 MW green energy from 2021 and up to fifteen years onwards.
All three vessels have their hull built in Cemre Shipyard in Turkey, after which Havyard completes the vessels in Norway.
The next two SOVs are to be delivered later in 2021.