E-marine PJSC Commissions MakaiLay across Their Fleet
MakaiLay was recently added to the Cable Ship Maram and Cable Ship Umm Al Anber, and is currently being added to the Cable Ship Niwa, with other ships to follow.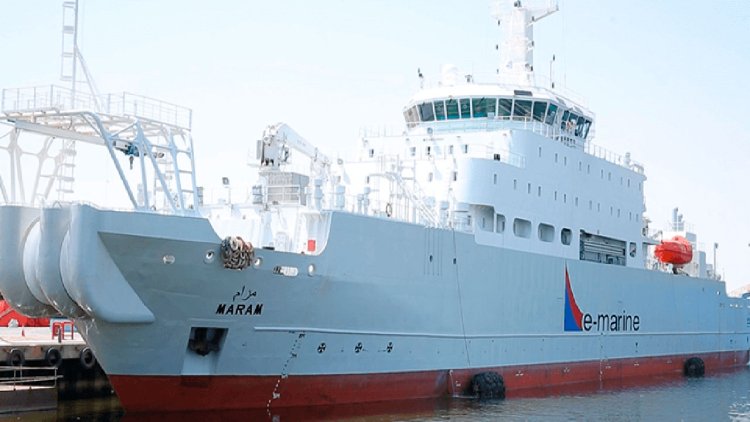 In the last year, Makai Ocean Engineering, Inc, has started commissioning the submarine cable industry's #1 cable installation software, MakaiLay, on E-marine PJSC's cable installation and repair vessels.
Dr. Venkata Jasti, Director of Engineering Software at Makai.MakaiLay E marine PR 2022.07.26 cs maram 800x370, said:
"It is a great honor and achievement to get a vote of confidence from an experienced operator like E-marine. With their team coming onboard, MakaiLay is now being used by over 90% of the global fiber-optic cable laying fleet."
In addition to adding MakaiLay, E-marine PJSC will also be using MakaiPlan Pro for pre-installation planning in their offices. The E-marine team has completed trainings on both software products and plan to conduct more trainings as Makai's software becomes fully adopted and integrated into their workflow.
Mr. Omar Jassim Bin Kalban, CEO of E-marine PJSC, a leader in submarine cable deployment, maintenance, and repair, said:
"We're looking forward to leveraging the advanced modelling and real-time control functionality of MakaiLay to tackle deep-water cable lays and repairs."
E-marine PJSC plans to use these software products on all future cable installation and repair projects. MakaiLay will allow for more precise control throughout the cable installation, with specific improvements in the deep-water areas.
MakaiLay is a subsea cable installation software that enables users to lay submarine cables with the highest level of accuracy, speed, safety, and reliability possible today, dramatically reducing the risk of cable failures.
MakaiPlan Pro enables 3D dynamic simulations of submarine cable installations. Cable operators can quickly simulate an entire cable lay in advance and in the office at up to 50 times faster than real-time. An entire trans-oceanic lay simulation can be completed in one day. MakaiPlan Pro is an extension of the cable route planning software, MakaiPlan and also includes all the planning features of MakaiPlan.