Damen Shipyards delivers new ultra shallow vessel to Herman Sr. BV
Named Bella, the exceptionally versatile 33-metre vessel has a draught of less than two metres, enabling her to operate in very shallow waters.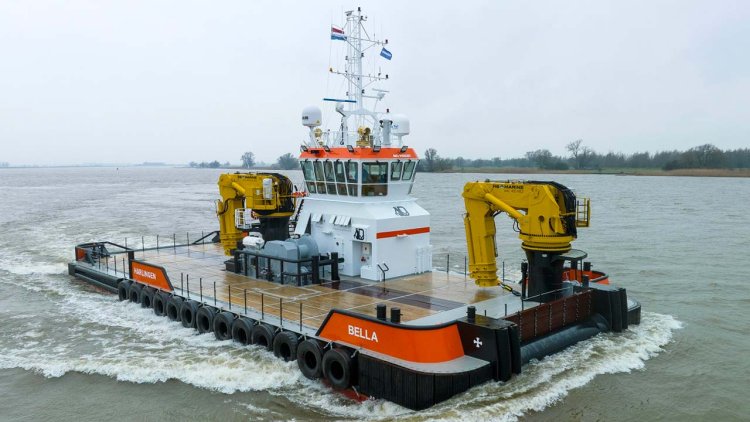 Photo: Damen Shipyards Group
In a ceremony held at Damen Shipyards Hardinxveld, the second of the new Multi Cat (MuC) 3313 SD class was handed over to workboat operator Herman Sr. BV in front of hundreds of guests.
The MuC 3313 SD is one of the largest types in Damen's Multi Cat range and so its extensive deck area enables it to be equipped with a wide range of equipment. Bella has two powerful deck cranes and a bollard of over 30 tonnes which, together with an anchor winch and towing pins, makes her ideal for dredging, anchor handling and construction projects.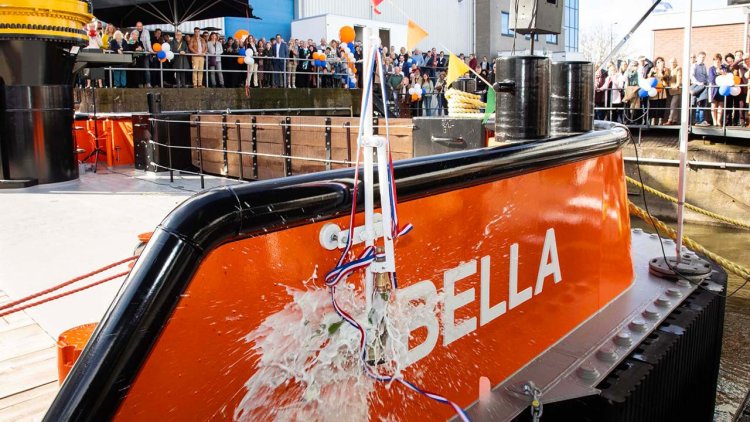 The van Dodewaard family, the owners of Herman Sr BV, has been a client of Damen since 1947 and this latest acquisition takes the number of vessels that they have purchased to nineteen – a mix of Multi Cats and Shoalbusters. In 2021, the second generation in the form of Erwin and Chris van Dodewaard took the helm on the retirement of managing director Jack van Dodewaard.
"We are very pleased to add yet another ultra shallow vessel to our existing fleet of vessels build by Damen," said Erwin van Dodewaard. "Bella is a unique Multi Cat with extremely powerful cranes for her draft which is unique in the workboat sector. With this new vessel we can serve our clients even better in the years to come."
"It was a great pleasure to hand over this new and highly capable Multi Cat to the van Dodewaard family." says Jeroen van Woerkum, commercial manager of Damen Shipyards Hardinxveld. "Each new vessel renews what is a very special relationship for us and we wish them every success with her."