Construction begins on Isle of Man Steam Packet Company's new flagship ferry
The steel cutting ceremony took place in Ulsan today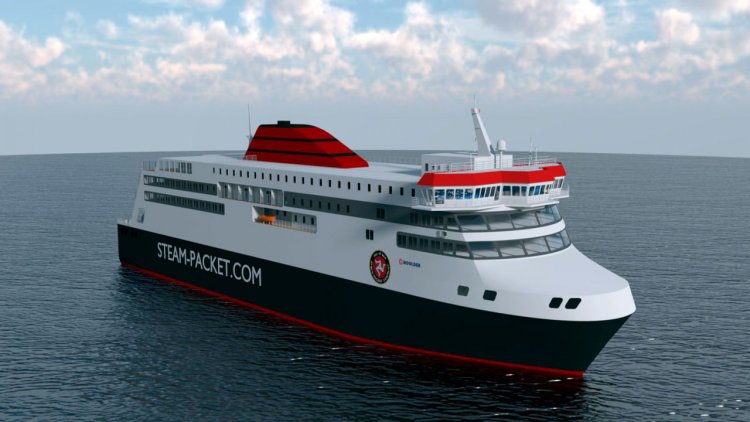 Construction has today commenced on Manxman, the Isle of Man Steam Packet Company's new flagship ferry, at Hyundai Mipo Dockyard in South Korea.
The 133m-long vessel, which is due to replace the Ben-my-Chree when she comes into service in 2023, will be able to carry 949 passengers and have 495m2 additional space for freight and vehicles.
Officials from the Steam Packet Company, Hyundai Mipo Dockyard, Sea Quest Marine Project Management (specialist shipbuilding consultants), Houlder Naval Architects and Lloyds Register (Class Surveyor) were all in attendance at the milestone event - known as the steel cutting ceremony - on site in Ulsan today, where a formal pushing of the button took place to mark the first piece of steel being cut.
This signifies that the detail design of the vessel – comprising a total of around 300 detailed plans – has been finalised and agreed by the Steam Packet Company Project Team and construction can commence.
Plasma files are produced from the approved construction drawings to allow the shipyard's plate cutting machines to automatically and accurately cut each piece of the vessel. There will be up to two months of plate cutting, panel production, plate bending and pipe production before block construction, and then keel laying, can commence.
Isle of Man Steam Packet Company Managing Director Brian Thomson said:
'The steel cutting ceremony is a milestone occasion and cause for celebration which signifies that after years of planning, the construction of Manxman is under way. The Project Team has been working incredibly hard to ensure the project stays on track and it's fantastic to see everything progressing as scheduled.
'This is a very exciting time for the Company and we're looking forward to keeping the Island community up-to-date with the progress of Manxman ahead of her coming into service, scheduled for spring 2023.'