Bureau Veritas issues AiP for the largest LNG Carrier in history
With a capacity of 271,000cbm, it will be the largest LNG Carrier in history, using the GTT NO 96 Membrane containment system in its 5 cargo tanks.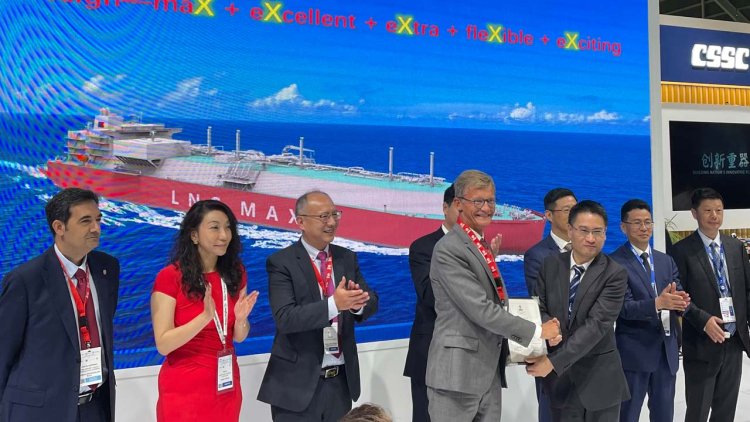 During Gastech 2023 in Singapore, Bureau Veritas (BV) formally issued its Approval in Principle (AiP) to the CSSC Hudong-Zhonghua Shipbuilding Group for a new Liquified Natural Gas Carrier (LNGC) design.
To deliver the AiP, BV performed a preliminary design review and HAZID (hazard identification) analysis to help ensure the highest levels of safety, feasibility, and performance of this design in compliance with applicable classification Rules and Regulations.
Matthieu de Tugny, President of Bureau Veritas Marine & Offshore, said:
"I wish to express how impressed we are with CSSC Hudong-Zhonghua Shipbuilding Group and their ambition to design and build the largest LNGC yet. BV has been very pleased to participate, and we sincerely thank CSSC Hudong-Zhonghua for their trust and commitment in this project and the very close cooperation we have enjoyed. Accordingly, I am delighted to issue the Approval in Principle to this landmark project, reflecting Hudong-Zhonghua's LNG carrier leadership role in the Chinese shipbuilding industry."
Song Wei, Chief Engineer of Hudong-Zhonghua said:
"Hudong-Zhonghua acknowledges BV's strong technical expertise on LNG Carrier, and thanks for BV's contribution during the joint developments of this Global Max type 271K m3 LNGC. Hudong-Zhonghua is very honored to receive this Approval in Principle from BV, which brings a new noticeable member of our G5 ever constant series family. For a Max type 271K LNGC, the CII will be about 23% lower than a conventional 174K LNGC,which will offer enhanced operation flexibility to global customers to meet with fast increasing shipping demand."