Awake.AI and Silo.AI collaborate in brining intelligence to ports and maritime logistics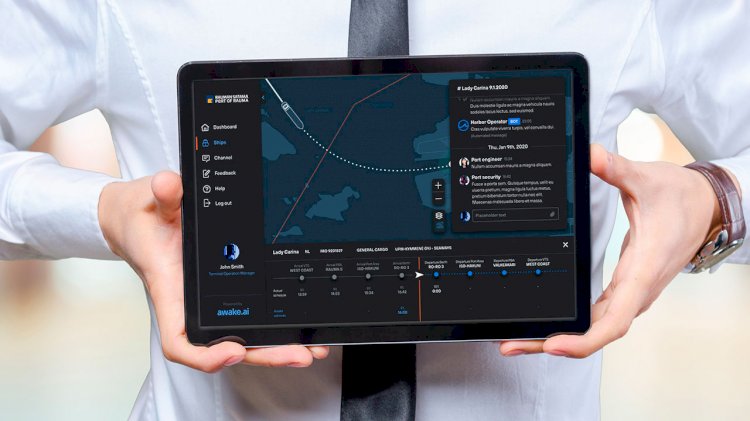 Photo: Silo.AI
Awake.AI, a company focused on the sustainable development of maritime logistics, and Silo.AI, the largest private AI lab in the Nordics, are working together to develop smart ports and smart vessels. In 12 months the collaboration has resulted in two groundbreaking artificial intelligence solutions that are now being published.
More than 90 percent of Finland's exports pass through ports, which makes the development of the Finnish ship and port logistics important for the country's competitiveness. One Sea member Awake.AI and Silo.AI have teamed up to develop machine learning solutions that improve the situational awareness at ports by analyzing freight and logistics chains.
The first solution, a machine learning based cargo ship arrival time solution, creates an estimated time of arrival which provides a much more accurate and reliable forecast for vessel arrival and departure than all other current systems. The developed solution improves the predicted arrival time up to 80%.
Another result of the collaboration is a computer vision based solution that analyzes and monitors cargo and vehicles in the port in real time. The solution automates challenging manual analysis, speeds up cargo logistics planning, and improves the detection of potential exceptional situations.
Karno Tenovuo, CEO of Awake.AI, says:
"The development in ports requires cooperation with various stakeholders such as shipping companies, cargo owners, terminal operators and logistics companies. Everything is based on trust and we want to be the most trusted platform and ecosystem orchestrator globally. With Silo.AI's top-notch expertise in AI, we have been able to scale and develop our multiple products for ports and shipping".
Peter Sarlin, CEO of Silo.AI, comments:
"We are delighted to work with Awake's team that has such a strong background in the maritime field. In addition to their platform, their expertise as a pioneer in the development of autonomous vessels and the maritime ecosystem offers various opportunities to create value through machine learning and other artificial intelligence technologies."
In addition to the aforementioned artificial intelligence solutions, the two companies will continue to work together to develop predictive analytics and maintenance and other machine learning applications for smart ports and their logistics chains. As digitalization and smart operations in maritime develop, it will also function as a basis for improvements in efficiency, security, accessibility and digital compatibility of ports and ships.
The goal for Awake.AI is to streamline maritime logistics operations, for example by promoting planning and digital operations in the logistics chain. The longer-term vision is to prepare ports for the era of autonomous ships.