VIDEO: SpaceX's reusable Falcon booster returns to port after crew launch
Falcon 9 booster used to launch NASA astronauts arrives at Port Canaveral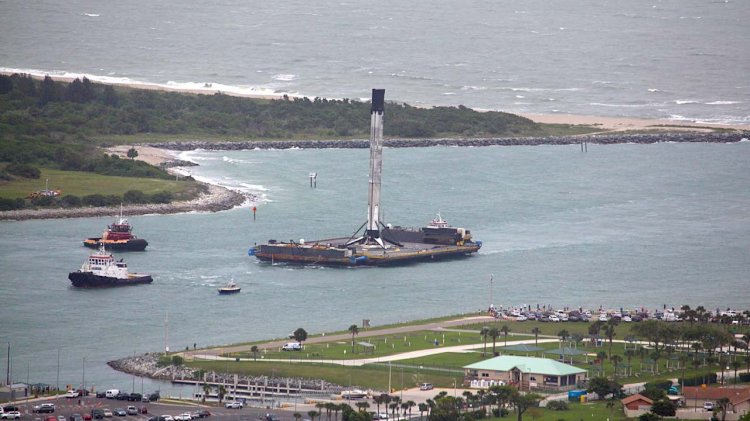 Photo: Stephen Clark / Spaceflight Now
Almost exactly three days after taking off a few miles to the north at the Kennedy Space Center on SpaceX's historic first crew launch, a 15-story-tall Falcon rocket booster returned to Florida's Space Coast Tuesday aboard a football field-sized drone ship.
The Falcon 9 rocket booster landed at sea on the droneship Of Course I Still Love You about 10 minutes after launching the Crew Dragon spacecraft.
A tug pulled the drone ship through the inlet leading to Port Canaveral around 2 p.m. EDT (1800 GMT) Tuesday, and mariners carefully maneuvered the drone ship into position for a crane to hoist the Falcon 9 rocket booster off the vessel and into an onshore stand. SpaceX planned to remove or retract the rocket's landing legs, then rotate the booster horizontal for transport back to Cape Canaveral Air Force Station for further inspections, and likely refurbishment for another launch.
The Falcon 9 rocket lifted off at 3:22 p.m. EDT (1922 GMT) Saturday from pad 39A at the Kennedy Space Center carrying NASA astronauts Doug Hurley and Bob Behnken on a test flight to the International Space Station aboard SpaceX's Crew Dragon spacecraft.
It was the first time astronauts have launched from U.S. soil into Earth orbit since the last space shuttle launch July 8, 2011.
It's unclear when or if SpaceX plans to re-fly this particular booster. The booster is special for its historic flight and even has the throwback NASA worm logo on the side.
Source: spaceflightnow.com
Video: www.USLaunchReport.com