Ukraine claims it hit two Russian landing craft in Crimea with sea drones
The Ukrainian military struck two Russian military transport ships with sea-based drones Thursday evening, the Ukrainian Defense Ministry announced.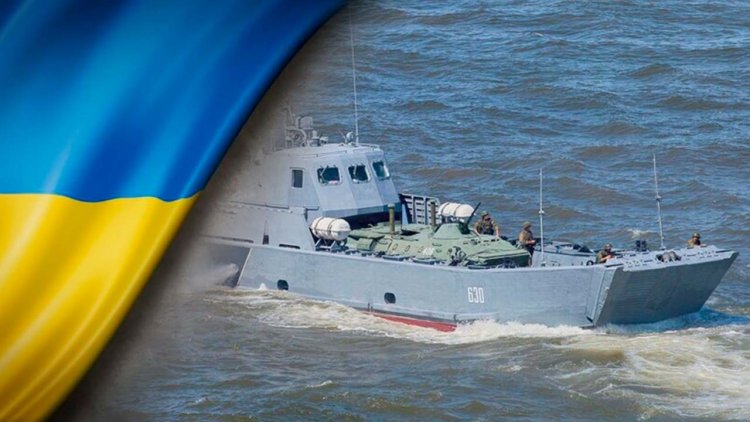 Ukraine claimed it hit two Russian landing craft in occupied Crimea with sea drones in an overnight operation, the latest in a series of escalating strikes on the peninsula illegally annexed by Russia in 2014.
"Two Russian assault boats have been hit with Ukrainian sea drones near Chernomorske, Crimea," Andriy Yusov, a representative of Defense Intelligence of Ukraine (GUR), told CNN.
GUR put out a video showing what it claims is the moment of the strikes. The video appears to show two sea drones approaching targets that appear to be landing craft at a dock. The second drone appears to film the first one as it hits the landing craft. As the second drone approaches its target, the video shows what looks like heavy equipment onboard.
"The boats were crewed and loaded with armored vehicles," GUR claimed in the post on Telegram.
Russia has not officially commented on the incident.
Kyiv has ramped up assaults on occupied Crimea in recent months, in an attempt to undermine Russian forces. In September, the Ukrainian military unleashed a fierce attack on a Russian naval base in Sevastopol, in what was its most destructive strike on the port since the Kremlin launched its full-scale invasion in February 2022.
The Russian Defense Ministry said its forces intercepted three Ukrainian drones over Crimea in the early hours on Friday. No casualties were reported.
GUR claimed Russia used similar landing craft to those destroyed on Thursday in its occupation of Zmiinyi Island, an uninhabited outpost in the Black Sea between Ukraine and occupied Crimea, at the beginning of its full-scale invasion.
Since Ukraine has ramped up attacks in the Black Sea, Russian naval air defense capabilities have been degraded and such landing craft have been serving as an alternative platform for air defense systems, according to GUR.
"In the conditions of actual lack of shipboard air defense systems after a series of attacks by the Security and Defense Forces of Ukraine, such boats with air defense systems on board served as cover for the invaders' ships on the Black Sea Fleet raids," GUR claimed.
Kyiv's strikes on Crimea are an attempt to isolate the peninsula and make it harder for Russia to sustain its military assault on the Ukrainian mainland, a Ukrainian source familiar with the strategy previously told CNN.
The Ukrainian military refocused efforts on striking Crimea after Moscow resumed its siege on Ukrainian ports following the collapse of the Black Sea Grain Initiative in July, preventing crucial grain exports and threatening global food security.
Source: CNN