Triton Knoll completes the installation of all 90 turbine foundations
Foundations and export cables installed as Triton Knoll drives towards first power in 2021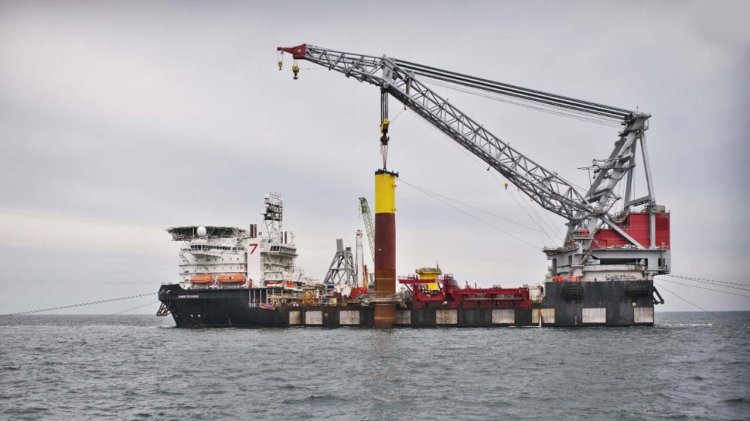 Photo: Triton Knoll
Triton Knoll has taken another huge step towards first power generation in early 2021, completing the installation of all 90 turbine foundations and two 50 kilometre long export cables, this week.
The successful delivery was achieved during one of the project's most challenging times due to the impact of Covid19, and has been completed within the planned summer delivery window.
Throughout construction, the safety and welfare of everyone working on the project has been and remains a top priority for Triton Knoll and its contractors. Covid19 forced the implementation of significant changes in working practices, requiring regular screening and testing of personnel, long periods of isolation for many of those working on the project, and site and vessel lockdowns to ensure the safe and timely delivery of the critical energy infrastructure project could continue.
Project Director for Triton Knoll and RWE Renewables, Julian Garnsey, said:
"We are delighted to have completed this phase of construction within the summer delivery window despite the impacts of Covid19. This is a great credit to all of our supply chain partners and everyone working in the Triton Knoll team.
"We have made excellent progress on the project to date, and look forward to installation of the first offshore turbines in early 2021."
Each foundation consists of a c.600 tonne steel monopile and c.160 tonne bright yellow transition piece, manufactured using state of the art methods to be significantly lighter than previous technologies. The installation contract was awarded to, and managed by Seaway 7, and the foundations were installed by Heavy Lift Vessels Seaway Strashnov and DEME Innovation.
Both 50km export cables were also completed this week with the jointing of the final length of NKT-manufactured subsea offshore export cable, undertaken by NKT from the vessel Olympic Zeus.
Boskalis, part of the VBNK partnership with NKT, laid and plough buried both lengths of 220kV subsea cables, which link the two offshore substation platforms to the onshore electrical network, using the vessel Ndurance. Each circuit, once energised, will transmit the high voltage electricity generated by the wind farm back to the shore, and ultimately into UK homes and businesses.
With continuing concern over the pace and impact of climate change, the need for nationally significant offshore wind projects like Triton Knoll to help decarbonise the UK's energy infrastructure is greater than ever. The state-of-the-art offshore wind farm will have a maximum installed capacity of 857megawatts and, once fully operational, will be the most powerful in the RWE fleet and capable of powering the equivalent of over 800,000 UK homes.
The project is located over 32 kilometres off the Lincolnshire coast, with a turbine array that covers an area of 145 square kilometres, bigger than the City of Manchester. It is jointly owned by RWE, J-Power and Kansai Electric Power, with RWE managing the wind farm's construction and long-term operation and maintenance works, on behalf of its project partners.