Seizure of Ukrainian ships by Russia: this case came to Hague Tribunal
On October 11, the Arbitration Tribunal in The Hague will begin hearings on the jurisdiction in the case of Ukraine against Russia regarding the seizure of Ukrainian sailors and ships of the Ukrainian Navy in November 2018.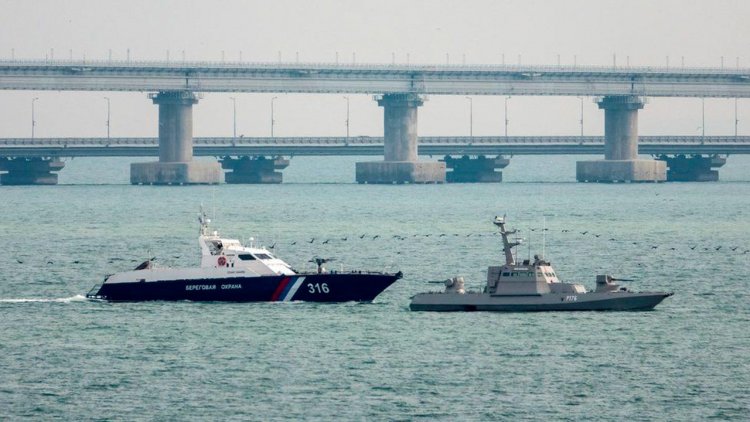 Photo: Russia's coastguard tows a seized Ukrainian vessel out of the port in Kerch. REUTERS
Dmytro Kuleba, Minister of Foreign Affairs of Ukraine, has announced this on Twitter.
In November 2018, 24 Ukrainian sailors and ships of the Ukrainian Navy "Berdyansk", "Nikopol" and "Yana Kapa" were seized by Russia in the Kerch Strait region.
Kuleba wrote:
"The case is very important for Ukraine. We prove the illegality of the behaviour of the Russian Federation against our state, the illegality of the detention and holding of Ukrainian warships and the unlawful trial against our sailors, who spent 9 months in a Russian prison."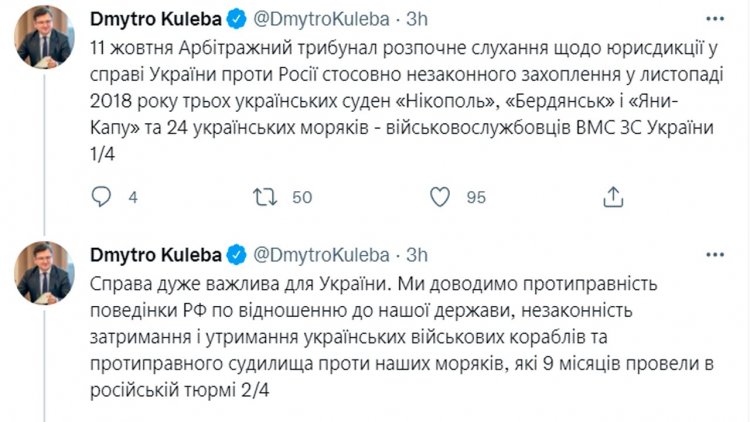 According to the head of the Ministry of Foreign Affairs, this case is also of decisive importance for the world, since Ukraine proves with facts and legal positions that, following international maritime law, the absolute immunity of warships is a fundamental principle and all countries are obliged to observe it or will be punished.
Kuleba summed up:
"I am sure that Russia will be held accountable in our claim, no matter how long it takes. The effective work of the Foreign Ministry in international courts is an instrument for establishing justice and another lever of pressure on Moscow."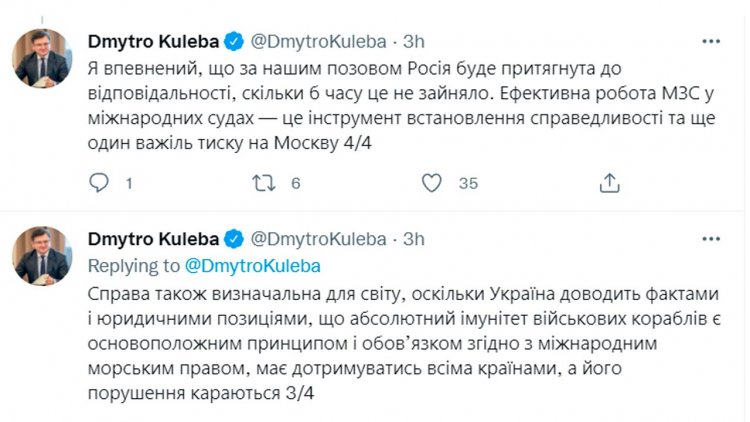 The press service of the court said that the hearings will be held in a hybrid format, with some members of the parties' delegations and some members of the arbitral tribunal joining in person, and some via videoconference.
The hearings will last four days and will be held in two rounds. Ukraine will present its oral arguments to the court on October 12 and 15, and Russia on October 11 and 14.
If necessary, an additional hearing will take place on Saturday 16 October.
On November 25, 2018, the Russian Federation attacked and seized three ships of the Ukrainian Navy near the Kerch Strait in the Black Sea. On May 25, 2019, the UN Maritime Tribunal ordered the Kremlin to release them immediately. The crew was released in September 2019 for exchange. On November 17, ships began to withdraw from Kerch, later a video appeared as they pass under the arches of the Crimean bridge. On the 19th they were handed over to Ukraine in a "ditched" state.
Source: LIGA