Royal Research Ships resume scientific operations
The Royal Research Ships James Cook and Discovery are resuming scientific research expeditions following the suspension of the marine facilities programme earlier in the year due to Covid-19.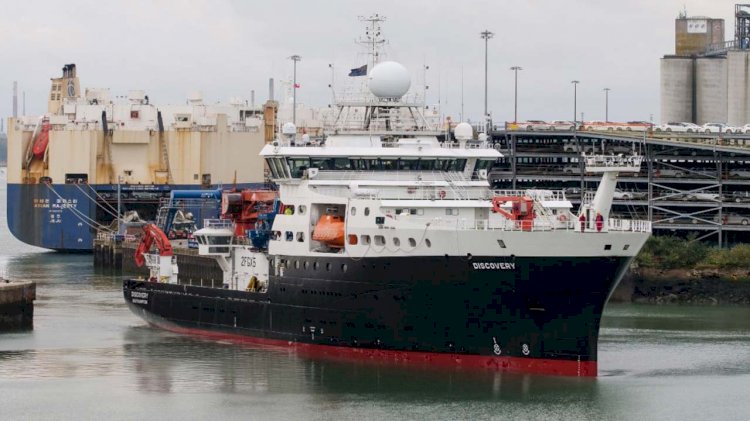 Photo: NOC
Both ships underwent scheduled refits over the summer which saw essential planned maintenance carried out to the hull and engines, as well as the ship-fitted scientific equipment.
RRS Discovery returned to home port of Southampton following the refit on Wednesday 23 September. We are now mobilising for the ship's next research expedition and will sail to the Ellet Array to carry out UK-OSNAP 2020 activity in early October with the NOC's Prof. Penny Holliday as Principal Investigator. UK-OSNAP aims to improve understanding of the circulation and fluxes of the North Atlantic Subpolar Gyre and will see the recovery and redeployment of moorings and an ADCP (Acoustic Doppler Current Profiler), as well as completing a CTD (Conductivity, Temperature and Depth) section from the Scottish continental shelf.
In November, RRS Discovery will make the annual journey to the Porcupine Abyssal Plain Sustained Observatory (PAP-SO) led by the NOC's Dr Susan Hartman. The 20-day mission will enable scientists and engineers to service the equipment and gather biological samples. For over 20 years the observatory has provided key time series datasets for analysing the effect of climate change on the open ocean and deep-sea ecosystems.
In December the ship will resume operations under the RAPID project to complete the activities that were left unfinished when RRS James Cook was recalled home in March this year at the start of the pandemic.
Meanwhile, RRS James Cook is currently on operations off the west coast of Africa, recovering equipment that was deployed in 2019. The ship will return to Southampton in the second half of October and is scheduled to sail to Port Stanley in the Falkland Islands in early December to enable scientific research by the British Antarctic Survey.
Leigh Storey, the NOC's Associate Director, National Marine Facilities, said:
"These past months have presented significant challenges. However, thanks to the dedication and professionalism of NOC staff - and in particular the National Marine Facilities team - we are now in a position to resume our activities in support of the UK's oceanographic research programme."