QatarEnergy, Shell sign 27-year LNG supply to the Netherlands
Pursuant to the SPAs, the LNG will be delivered to Gate LNG terminal located in the port of Rotterdam starting in 2026 for a term of 27 years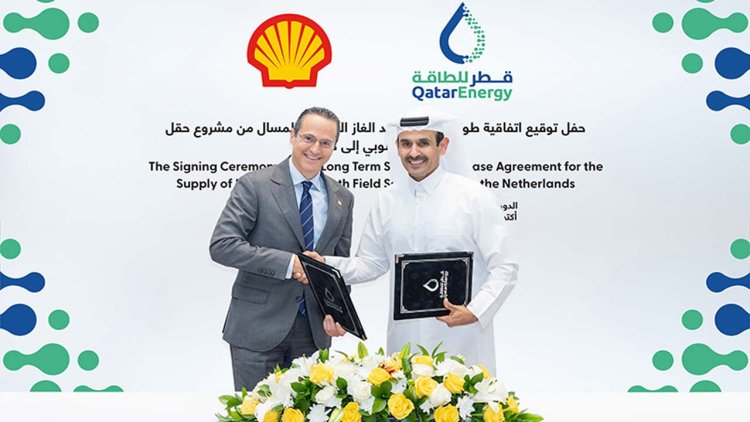 Affiliates of QatarEnergy and Shell signed two long-term LNG sale and purchase agreements (SPAs) for the supply of up to 3.5 million tons per annum (MTPA) of LNG from Qatar to the Netherlands.
The LNG volumes will be sourced from the two joint ventures between QatarEnergy and Shell that hold interests in Qatar's North Field East (NFE) and North field South (NFS) expansion projects.
The SPAs were signed by His Excellency Mr. Saad Sherida Al-Kaabi, the Minister of State for Energy Affairs, the President and CEO of QatarEnergy, and Mr. Wael Sawan, the CEO of Shell, at a special event held in Doha in the presence of senior executives from both companies.
Commenting on this occasion, His Excellency Minister Al-Kaabi said:
"We are delighted to sign these two long-term LNG sale and purchase agreements with Shell that will further enhance our decades-long relationship and strategic partnership in Qatar and around the world. There is no doubt that the contracted LNG volumes underscore the vital role natural gas plays in the energy transition and in supporting energy security of customers across the globe."
His Excellency Minister Al-Kaabi added:
"These agreements reaffirm Qatar's commitment to help meeting Europe's energy demands and bolstering its energy security with a source known for its superior economic and environmental qualities. We look forward to work closely with our partner, Shell, in delivering on this shared endeavor."
Shell's partnership in the North Field LNG Expansion Projects is made up of a 6.25% share in the 32 MTPA NFE project and a 9.375% share in the 16 MTPA NFS project.