Port of Amsterdam welcomes new container service to Ireland
Samskip has announced that the company will start a new container service on the 25th of January, connecting the TMA Logistics terminal in the port of Amsterdam to the Irish port of Dublin.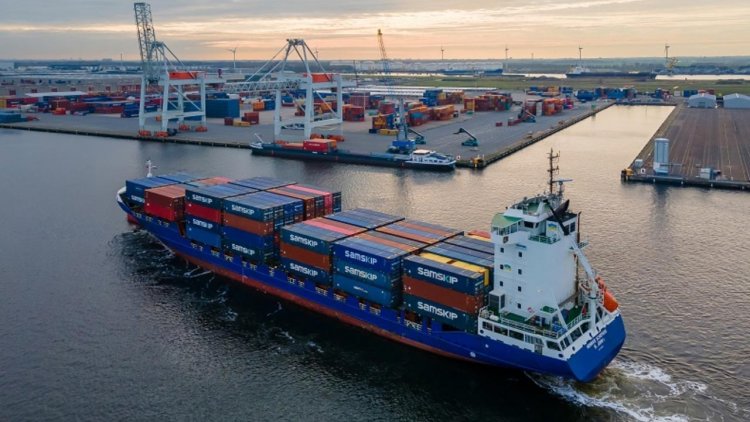 Photo: Port of Amsterdam
The service will start on fixed days, departing from Amsterdam on Monday and arriving in Dublin on Wednesday and returning to Amsterdam in the weekend.
This expansion of the Samskip network is the latest in a series of its recent new connections via Amsterdam, including a direct rail service between Amsterdam – Duisburg and the addition of the Scottish port of Grangemouth to the UK connections this past summer/fall. It is another testament to the competitive position of the port of Amsterdam in the short sea and intermodal markets.
The service is launched at a time wherein direct connections between Ireland and the EU markets are of vital importance, as UK-routed cargo can run into Brexit related challenges. According to Thijs Goumans, Head of Ireland Trade Samskip, the service launch comes at a time when importers and exporters in Ireland-mainland Europe trades continue to weigh up options as the consequences of Brexit for supply chain management became clear.
Dependent on demand, Samskip will consider calls to connect other ports in Ireland to Amsterdam direct. Goumans said:
"The Ireland-North Continent freight market is in a dynamic phase, and fixed day container services to/from Amsterdam provide the certainty on which supply chain managers serving the Dutch and German markets can base business growth."
Michael van Toledo, General Manager TMA Amsterdam, also applauds the latest development:
'This new service could have been custom-made for our ambitions to grow as a hub for shortsea container business in Amsterdam.' It is the next step in our relationship with Samskip, targeting shippers' greater appetite for direct container services between Ireland and the North Continent, post-Brexit, with TMA's cross-docking services also winning over trailer operators in markets further south.'
Richard Archer, Regional Director Samskip Multimodal, confirms the attractiveness of the port:
'Amsterdam is a high performance port connecting straight into the hinterland area and the entire Samskip Ireland team is delighted by this new commitment to pan-European transport.'
For Port of Amsterdam, the container service is another welcome addition to its short sea and intermodal network. Its strategic focus aims at leveraging its geographical position, hinterland connections, competitive advantages and strong commercial players into continued success in the short sea market.
Koen Overtoom, CEO Port of Amsterdam, said:
"We are very pleased with this expansion of the short sea network of the port of Amsterdam. It underlines the strength of the services TMA Logistics and Samskip offer, as well as the strategic position of our port. Ireland is a key market, and especially in these rapidly changing times a direct connection such as this presents tremendous opportunities. As Port of Amsterdam, we will continue to work with TMA, Samskip and our international partners to make this service a success."