Ocean Technologies Group introduces new maritime learning platform
Having brought together market leading maritime learning businesses Seagull and Videotel, Ocean Technologies Group (OTG) set its newly united team the challenge to work throughout 2020 on combining the strengths of these businesses into a new state-of-the-art Ocean Learning Platform.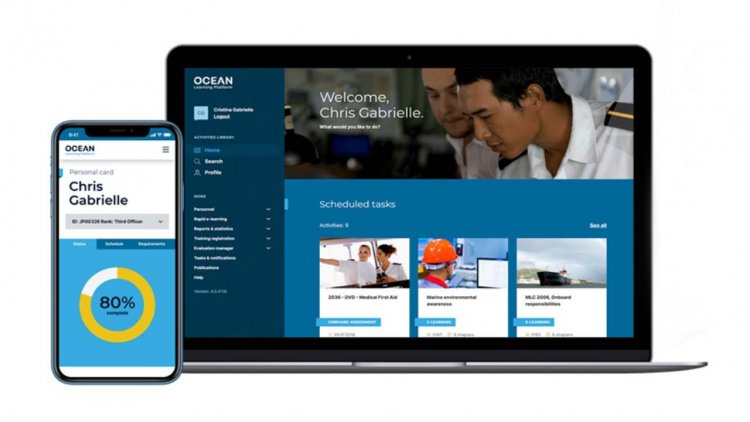 Ocean Technologies Group has made significant investments in its software and content offerings including a ground-up re-engineering of its UX (user experience) design to deliver a transformed learning experience on this new platform, carefully devised to engage and motivate the learner.
The Ocean Learning Platform is an enterprise level maritime learning management system designed to unite shore based and onboard training initiatives, online and across mobile devices. It delivers blended learning, assessment and competency management solutions that completely connect e-Learning and hands-on activity to improve knowledge, skills and behavioural development.
At its core is a new Ocean Learning Library bringing together materials from across the brands, with every ship type and trade catered for. Customers will now have access to the most comprehensive, diverse and media-rich blended-learning library available to the maritime sector today.
Upgraded software-enabled features and the introduction of micro-learning and gamified content will further enhance crew engagement encouraging the adoption of personalised and immersive learning sessions.
OTG's diverse customer base of over 1,400 reputable ship owners, managers, training institutions, administrations and other stakeholders will also be able to combine information and content specific training for their companies and fleets, to complement the Ocean Learning Library. This is now further-enabled through an integrated rapid authoring tool, which allows companies to quickly create customised and trackable e-Learning content on subject areas of critical importance to the company.
Similarly, a pulse survey tool is now available as part of the Ocean Learning Platform, allowing ship managers and crew managers to actively engage with their seafarers on a range of interactive applications like employee experience, safety& operational matters and in-house campaigns. Survey data is then returned from the vessel and online sources providing insight and facilitating data-driven decision making.
This furthering of possibilities for data insight is also the theme of a new and improved performance appraisal tool added to improve the quality, efficiency, transparency and security of ongoing proficiency and career development.
Commenting on the launch Caspar Atkinson, Chief Product Officer at Ocean Technologies Group, said:
"The new Ocean Platform offers a compelling, engaging and comprehensive learning experience for the seafarer. It's also the foundation for an exciting year of product innovation which we have planned."
Manish Singh, Ocean Technology Group's CEO, said:
"This combination of our sister companies is adding significant added value to our shared customer base. In addition to our transformed Ocean Learning Platform, we are working with partner customers by offering our Tero Marine fleet management software and document management system in our suite of services."