New tanks for cleaner fuels speed PLA progress towards Net Zero
New biofuel storage tanks, installed by the Port of London Authority (PLA) on the Thames in Gravesend, are accelerating an ambitious plan to halve its carbon emissions.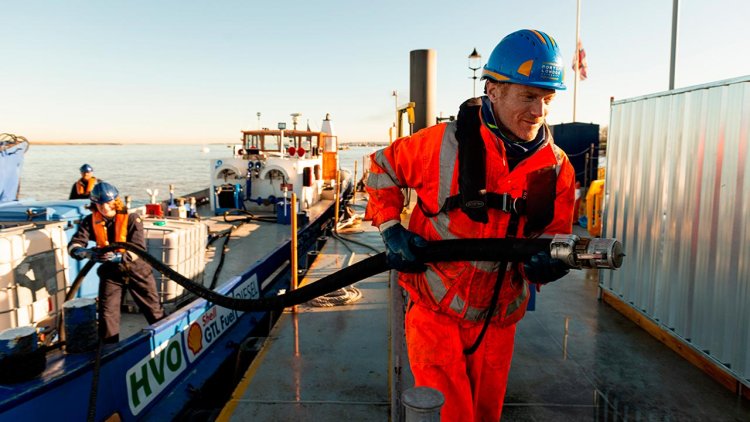 Photo: PLA
Part of a commitment to achieve Net Zero by 2040, a pair of three-tonne, steel tanks, installed out of sight at Royal Terrace Pier, next to the PLA's London River House headquarters, have a capacity to store 20,000 litres of pollution-busting hydrotreated vegetable oil (HVO).
By 2025, the PLA is targeting a 50% reduction in the 2,054 tonnes of carbon emitted across its entire operations in 2014. Currently, fuel used by its vessels is responsible for more than 75% of the PLA's total carbon emissions.
Two more similar tanks for storing green fuels are due to be installed at Barrier Gardens Pier in Woolwich this spring, completing a major refurbishment to make it both safer and more sustainable.
Steven Clapperton, who leads the PLA's newly-created directorate of Sustainable Marine Operations, said:
"This is a major step forward in our plan to decarbonise our round-the-clock work to keep the tidal Thames safe for all its users, from Teddington to the North Sea. The introduction of HVO is positive news for both carbon emissions and air quality. Our trials show it reduces emissions of nitrogen oxides and particulates by at least 50%, compared to conventional diesel."
Thames Marine Services Ltd (TMSL) has been appointed as the PLA's HVO supplier, following a competitive tender process. Business director Robert Dwan said:
"Supplying all types of vessels - from house and passenger boats, to tugs, container and navy ships - we have invested to modify our barges to carry more environmentally-friendly fuels."
Contractors Taylor Fuel Controls and ET Marine have helped the PLA design and install the new tanks.