New Pilot boat for the Port of Berbera delivered by Safehaven Marine
Safehaven Marine based in Ireland has delivered a pilot vessel for operations at the Port of Berbera in Somaliland, Africa.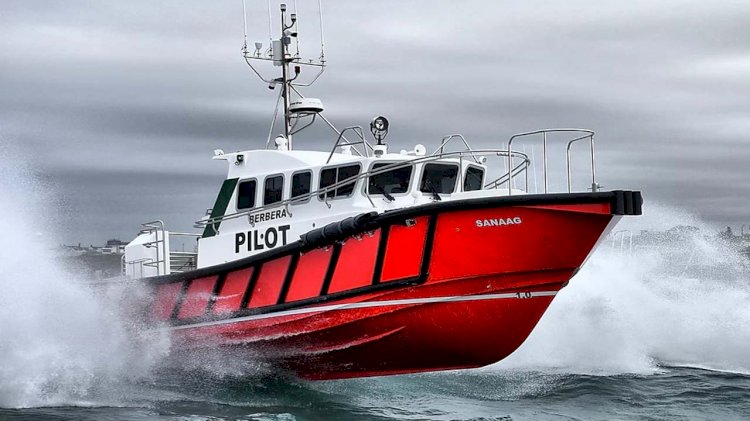 Photo: Safehaven Marine
'Sanaag' is one of Safehaven's Interceptor 38 pilot vessels, at 11.9m LOA, a very capable design which proves economical to operate, yet capable of dealing with very rough seas and challenging boarding conditions when required.
She has been built for DP World Berbera to be given to the Somaliland Ports Authority. The build and sea trials were managed fully by P&O Maritime Logistics. This is the fourth pilot boat that Safehaven Marine have supplied to the DP World, all of which were delivered on time and have operated very successfully and reliably over the years, this no doubt was a significant factor when the group required another new pilot vessel, and with Sanaag being the 43rd pilot vessel Safehaven Marine have supplied, they were secure in the knowledge that they were working with a builder with a vast range of experience in this specialized sector.
'Sanaag' is powered by Caterpillar C7 350hp engines and ZF V drive gearboxes through conventional sterngear providing her with a 18-20kts operational speed, she has a 5 person capacity for 4 pilots and helmsman in her main cabin, all on CAB suspension seating with her helm position being centrally positioned to allow excellent control and visibility to the coxswain during both port and st/bd boarding's.
The Interceptor design features a central cabin configuration allowing a useful aft deck area and a clear wide pilot boarding area forward. Below decks the design also features a spacious f/wd cabin which can accommodate additional passengers when required. The hull is heavily fendered all round with a combination of main gunwale, diagonals and a lower run as well as also employing Safehaven's own special sacrificial boarding fender providing additional protection at the shoulders. A bow pusher also allows her to assist in docking of small ships in Port if called upon. High and low level pilot boarding railings as well as a Hadrian safety rail ensure safety on deck. MOB recovery is via Safehaven's well proven transom lift, of easy manual operation it can quickly be deployed to safely recover a casualty from the water.
An aft deck external steering position facilitates the safe maneuvering of the boat in any recovery situation. Fitted with a full array of navigation equipment with Radar, GPS plotter, sounder, AIS and Sailor VHF radios, as well as a full CCTV system covering all areas of the boat. The main cabin is fitted out to a high standard and is fully climate controlled with twin 18,000 btu air conditioning units for redundancy ensuring a comfortable environment for her crew and pilots during transits.