Med Marine's tug will be operated in Mexican Port of Manzanillo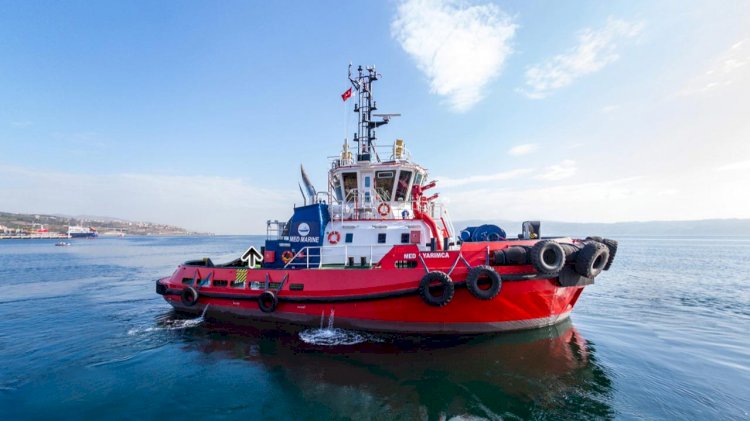 Photo: Med Marine
2019 was really busy for Med Marine and the company completed the year with a last minute contract. Med Marine and Mexica's Snekke S.A. signed a contract for MED-A2575 class tugboat which is one of the designs that Med Marine has built many times with different bollard pull options and has a broad experience building the same. The vessel will be operated in Mexican Port of Manzanillo.
After Med Yarımca's delivery to Port of Manzanillo, the number of Med Marine tugs operating in South America in 2019 is now 3.
Renamed as RPM MANZANILLO, Med Yarımca was previously operating in Med Marine's national fleet in addition to her five identical sisters.
MED-A2575 is a RAmparts 2500W ASD design by Canadian designer Robert Allan Ltd. It is a very economical, compact but pretty robust design that is widely accepted by the operators all over the world.
The Canadian designer describes RAmparts designs as follows:
Versatile/multi-purpose ASD design
Ship-handling, coastal towing, escort, general purpose duties
Multiple configurations from 22 to 36 metres in length
The most widely accepted design series in the industry
Med Marine offers 60, 70 and 75 tonnes bollard pull options to its clients in this design. Med Yarımca's virtual reality experience is available on Med Marine's web page which displays every detail about the high quality tugboat.
The tugboat's general specifications include:
LENGTH O.A. 25,30 m
BEAM 12.00 m
DEPTH 4,60 m
BOLLARD PULL 70 tons
SPEED 13,5 knots (max.)
MAIN ENGINE 2 x CAT 3516 C 2100 [email protected] rpm
PROPELLER Schottel SRP460 CP
FORE TOWING WINCH THR MARINE (SEC)
GENERATOR SET 2 x CAT C4.4 99 ekW 1500 rpm 50hz
FIFI 1 SYSTEM 1 x 1200 m3/hr. Pump, 2 x Foam/water monitor
ACCOMMODATION 6 people