New container route connects Stockholm directly to Rotterdam and Hull
Stockholm Norvik Port now has two new destination connections, further strengthening the port's status as an important logistics hub in the Greater Stockholm area.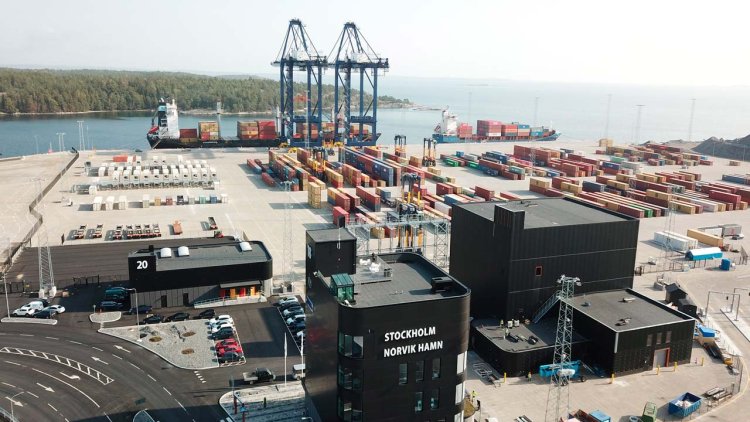 Photo:Ports of Stockholm
In November the shipping company SUN Line Shipping introduced a brand new Rotterdam ˗ Stockholm ˗ Hull container service route.
The new Rotterdam ˗ Stockholm ˗ Hull container service route was inaugurated on 11th November. Shipping company SUN Line Shipping, a subsidiary of ThorSvecon Group AB (TSG AB), has increased its fleet and has introduced the container ship Perseus on the route. The vessel has a 660 TEU cargo capacity and will sail to and from Stockholm Norvik Port one day each week.
"We have seen a continuous increase in demand from freight owners wanting to transport goods between Sweden, the Netherlands and England, and now the time is right. Operating from Sweden's newest port, Stockholm Norvik, feels like a natural step and is completely aligned with our goal of strengthening our position in east coast shipping," explains Eric Hjalmarsson, CEO of TSG AB.
Rotterdam and Hull are two brand new destinations that can now be reached from Stockholm Norvik Port, consolidating the port's position as an important logistics hub in the Greater Stockholm area.
"It's a pleasure that yet another customer has chosen to commit to Sweden's most modern port. Stockholm Norvik offers an unbeatable location with its close proximity to 50 percent of Sweden's total consumption. Stockholm Norvik is now developing into the logistics hub it was planned to be," says Johan Wallén, Chief Commercial Officer at Ports of Stockholm.
The container terminal at Stockholm Norvik Port is run by Hutchison Ports Stockholm. Hutchison Ports is the biggest terminal operator in the world, with 53 ports in 27 countries.
"The increased connectivity to and from Stockholm Norvik gives our customers more alternatives to choose from and even greater flexibility. We are very pleased that SUN Line Shipping sees the advantages of introducing a new service that gives their existing customers and new customers the possibility to connect directly to the Greater Stockholm area," states Lawrence Yam, CEO of Hutchison Ports Stockholm AB.
Stockholm Norvik Port is a new RoRo and container port with the best possible location in the Baltic Sea. Short approach lanes and efficient transport links provide direct access to one of the most rapidly growing regions in Europe.