Konecranes launches its sixth generation of mobile harbor cranes
New Generation 6 high-performance model portfolio targets growing global bulk and general cargo handling market demand as COVID-19 pandemic eases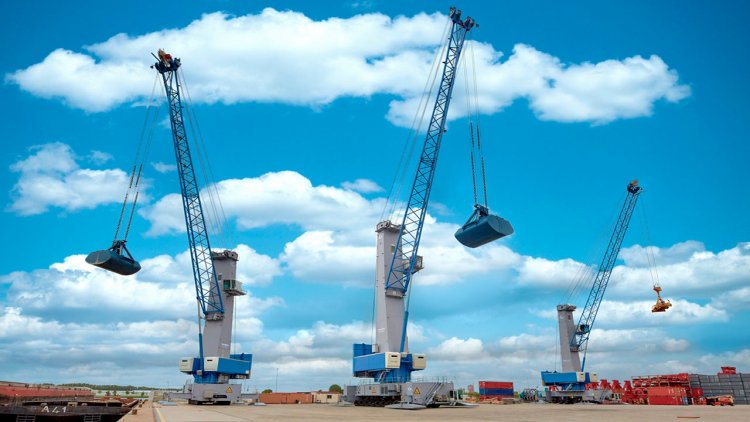 Photo: Konecranes
Generation 6 marks the first comprehensive revamp of Konecranes Gottwald's mobile harbor crane portfolio in 15 years, and comes as growth in the global bulk and general cargo handling market accelerates.
Research from Drewry Maritime Advisors forecasts the global bulk and general cargo handling market, excluding RoRo and vehicle traffic, to grow 6.8% year-on-year in 2021 to 7.4 billion tonnes. Drewry expects growth to continue in coming years, reaching 8.5 billion tonnes by 2025, a compound annual growth rate of 3.5%.
Konecranes, which launched the world's first mobile harbor crane in 1956 and is a pioneer in Ecolifting™, has worked closely with customers around the world while developing the new cranes. The result is a range of products that can eco-efficiently service essentially any type of vessel and any kind of cargo – containers, general cargo, project cargo and bulk – in any location, either on the quay or on a barge. Sales are now underway.
Konecranes President and CEO Rob Smith said:
"These cranes represent the best of Konecranes in terms of technology and durability, and thus also strongly support our commitment to sustainability. The carbon footprint of our customers is just as important as our own, and we aim to reduce it through low-carbon, eco-efficient solutions and by extending product lifecycles in ports, factories and everywhere our products and services are used."
Reflecting Konecranes' commitment to a decarbonized and circular world for customers and society at large, Generation 6 is designed for electrical power use; power can be sourced from an onshore grid, meaning no direct carbon emissions during operation. Operators can also choose a new battery solution that also reduces emissions and gives greater flexibility by permitting crane operation independent from the grid. For quays without a power supply, a common occurrence in developing markets, the cranes come with fuel-saving diesel generators and Konecranes' latest hybrid drives.
Dinesh Sharma, Director at Drewry Maritime Advisors, said:
"Stevedores globally, big and small, are increasingly focused on reducing the carbon footprint of their operations in the near term. Growing trade and the need to replace old equipment will likely mean increased demand from ports around the world for more efficient cargo handling equipment to support increases in productivity, reduction of costs and CO2 emissions."
In addition to lower emissions, the design of the crane advances circularity through a more durable design: its robust construction doubles the cranes' service life in container operation compared to earlier generations, and more powerful lifting capacity curves and high working speeds ensure greater efficiency and faster cargo turnaround times. The long-lasting design not only saves the resources needed to build new cranes – it supports resale values when customers choose to renew their fleets.
The new cranes will be equipped with smart crane features for safe, ergonomic and efficient crane operation, and will come equipped with TRUCONNECT remote monitoring, which collects condition, usage and operating data from control systems and sensors to help with maintenance planning and predicting possible component or equipment failure.
These capabilities reflect Konecranes' investment in the growing opportunities of data. The company has a data science laboratory in Lyon, France, as part of its continuing drive to digitalize products, services, and operations, and has tapped the real-time insights from its tens of thousands of connected devices and pieces of equipment around the world to balance demand and supply in real time and navigate through the COVID-19 pandemic.