Kawasaki receives first order for coastal ship large-capacity-battery propulsion systems
Each Kawasaki battery propulsion system includes large-capacity lithium ion (Li-ion) marine batteries, a propulsion control system and an electric power management system.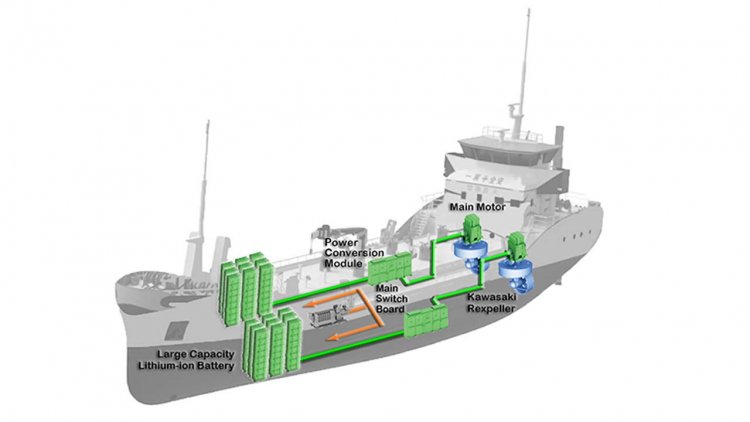 Photo: Kawasaki
Kawasaki made full use of its expertise in the field of systems integration to realize a system that efficiently supplies power and electricity to the main propulsion system and auxiliary equipment, and irregularity monitoring and protective functions have also been provided to safeguard the entire system including the Li-ion batteries.
In addition, Kawasaki utilized electric power system knowledge cultivated through experience in the generator field to make this system usable as an emergency power supply source in the event of a large-scale natural disaster, thus providing support for the business continuity plans and the life continuity plans in the region.
As the maritime shipping industry faces increasingly strict emission regulations from the International Maritime Organization (IMO) on carbon dioxide (CO2), nitrogen compounds and other gases, many are looking to cleaner, alternative power sources to replace traditional heavy fuel oil. Fully battery-powered vessels achieve major reductions in emissions of CO2, nitrogen oxides (NOx), sulfur oxides (SOx) and particulate matter (PM) during operation.
Basic Specifications for Kawasaki's Large-capacity-battery Propulsion System:
Batteries: 1,740 kWh per set (total 3,480 kWh per ship)
Propulsion control system: Propulsive power control, energy and power flow control, maneuvering operation, system monitoring
Main propulsion system: Two 300 kW Kawasaki Rexpeller KST-115LF/AN-1.7 units (variable-speed, motor-driven control)