Jumbo upgrades power generation with Alewijnse switchboards
Jumbo has called on Alewijnse Marine to fabricate and install two switchboard panels for its heavy lift crane vessel Jumbo Javelin.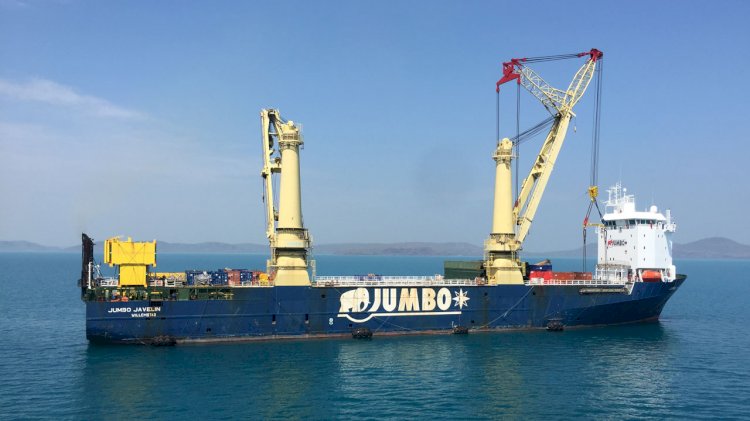 Photo: Jumbo
Alewijnse Marine will engineer, supervise, test and commission the cabling and electrical installation activities during the conversion. The switchboards will manage the additional power provided by six containerised temporary generator sets, which Jumbo has installed to increase the vessel's capacity for an upcoming contract.
The Jumbo Javelin is a DP2 heavy lift crane vessel operated by heavy lift shipping and offshore installation contractor Jumbo. The 144m-long vessel is typically mobilised for offshore installation contracts, providing dynamically positioned (DP) heavy lift services with its two 900-tonne mast cranes.
Preparing for an upcoming contract that will require increased power requirements, Jumbo has equipped the Jumbo Javelin with six additional containerised generator sets. These will supply power to the vessel's bow thrusters and offshore equipment during DP operations. The Alewijnse Marine switchboards will manage this increased power supply. Jumbo will remove the six generators at the end of the project.
Pieter Vosselman, Account Manager Alewijnse Marine, says:
"Our switchboards will make it possible for the Jumbo Javelin to have a fully separated power supply for the two bow thrusters. In the existing set-up, there will not be enough power available for the temporary set-up. This upgraded configuration will give Jumbo the extra capacity and reliability to take on this project."
Alewijnse Marine will ensure the complete integration of the new switchboards into Jumbo Javelin's existing systems. Furthermore, the company will install the switchboards in such a way to allow the ship's electrical systems to return to their previous settings after the removal of the temporary generators. This will be achieved through modifications to the PMS and PLC control systems. The switchboards will remain in position, giving Jumbo the option to increase the vessel's power capacity again in the future.
Pieter Vosselman continues:
"We worked on the Jumbo Javelin when it was being built. It is nice to be back on board with this project – giving this great vessel the flexibility to take on similar jobs in the future."