HullWiper teams up with World Subsea Services
HullWiper has formed a partnership with World Subsea Services to bring sustainable and affordable hull cleaning solutions to vessels calling at the Port of Colombo in Sri Lanka.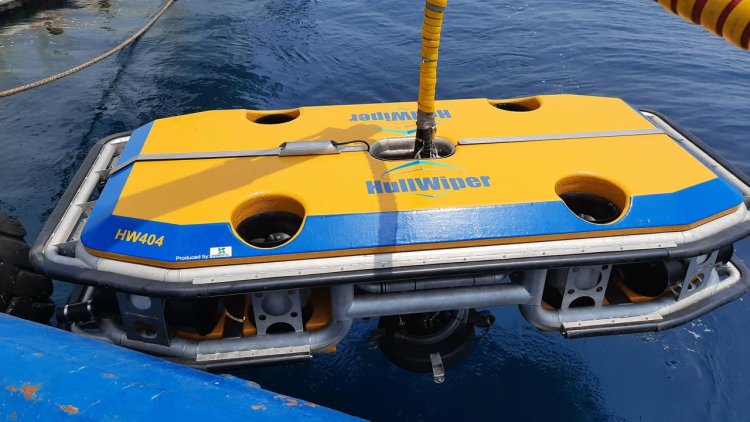 Photo: HullWiper
Strategically located in the Indian Ocean, Colombo Port is one of the country's largest and busiest ports, particularly for container vessels.
HullWiper's Remotely Operated Vehicle (ROV) provides an eco-friendly, safe alternative to traditional methods of hull cleaning using divers with brushes or karts. With HullWiper's advanced onboard filter unit technology, hull cleaning operations can be performed while the vessel is in port, day, or night, in most weather conditions and whilst cargo operations are underway. Vessels do not need to be off-hired or experience delays to their tight schedules.
Lalindu Jayawickrama, World Subsea Services CEO, says:
"The shipping industry has moved into an era of performing eco-conscious operations, and with this comes the responsibility of ship owners and operators to use green solutions. We are preparing now for the inevitable possibility that the option to clean hulls using traditional methods may become extremely limited by offering a service that will not disrupt business continuity for vessels."
World Subsea Services joins HullWiper's expanding family of partners around the world operating under their lease agreement introduced in 2017. The global network of hubs provides cost-effective, safe underwater hull cleaning solutions that protects both vessel's expensive anti-fouling coatings and the marine ecosystem. HullWiper's ROV is 100% environmentally friendly and uses adjustable seawater jets as the cleaning medium instead of brushes or abrasives, to minimise the risk of damage to coatings. Removing fouling from vessels' hulls results in optimal performance, energy efficiency and reduced CO2 emissions, and avoids the expense of recoating in case of damage. No divers are used, so there is no risk to human life.
Simon Doran, HullWiper MD, says:
"With our industry focusing more and more on efficient, sustainable operations, HullWiper's cleaning solution is an effective tool to improve a vessel's fuel economy and carbon footprint. Colombo's strategic location in the Indian Ocean makes it a key hub, with vessels sailing to and from Europe, East Africa, the Persian Gulf, East Asia and elsewhere in South Asia. Having access to advanced hull cleaning technology services at this key port will be beneficial both for ship owners' and operators' bottom lines, and the marine environment."
Since its launch in late 2013, HullWiper has expanded from its first base in Dubai to key locations across the Middle East, as well as ports in Australia, Denmark, Egypt, Gibraltar, Mauritius, Namibia, Norway, Panama, South Korea, Singapore, and Sweden. HullWiper has performed more than 1,400 hull cleans for vessels worldwide.