HMCS Harry DeWolf officially delivered to the Royal Canadian Navy
On July 31, 2020 at CFB Halifax dockyard, HMCS Harry DeWolf Arctic and Offshore Patrol Ship (AOPS) was officially delivered to the Royal Canadian Navy (RCN).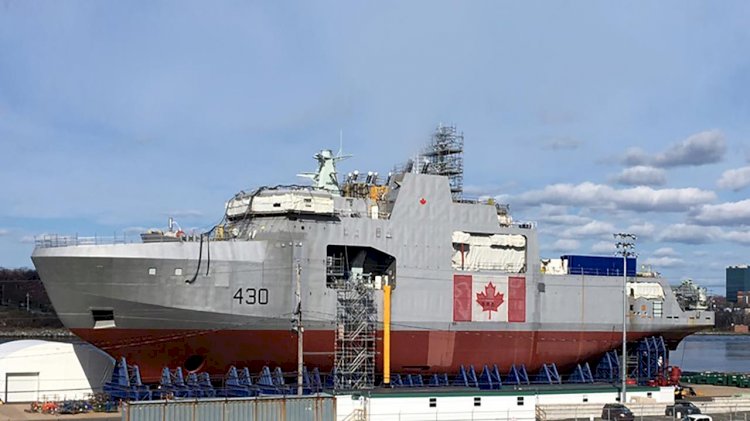 Photo: BMT
HMCS Harry DeWolf, named for Canadian wartime naval hero Vice-Admiral Harry DeWolf, is the first ship built for the Royal Canadian Navy under the National Shipbuilding Strategy (NSS) and is the lead vessel of a new class of Arctic and offshore patrol ships.
As the prime contractor for the original Design, Engineering, Logistics and Management Support (DELMS) services contract, BMT assisted Canada's AOPS Program Management Office (PMO) in the project Definition Phase and assembled a Canadian-led design team that comprised Canada's foremost Arctic marine designers.
BMT's extensive background in ship design was complemented by a skilled team of specialists from Vard Marine, with extensive experience in the design and construction of ice breakers and patrol vessels. This team delivered a class design package for the AOPS and a ship specification which formed the basis for the AOPS contract with Irving Shipbuilding Inc.
Designed to patrol Canadian waters, this new class of ship is at the core of an enhanced Arctic presence for the RCN that will add to the country's fleet of current and future ships in performing critical reconnaissance and surveillance.
The Harry DeWolf-class patrol ships will be capable of operating in challenging Arctic ice conditions, giving the RCN unescorted access to waters that were previously inaccessible to naval vessels. Upon commissioning, Harry DeWolf will be able to participate in international operations such as anti-smuggling and anti-piracy, as well as providing support for Search and Rescue (SAR), emergency / disaster response and humanitarian missions.
Upon delivery of Harry DeWolf, Wade Carson CEO of Vard Marine said:
"Vard Marine congratulates the Royal Canadian Navy on the acquisition of a capable and versatile vessel. As the lead naval architect on the AOPV program over a decade ago, I had the opportunity to be a part of the skilled Vard Marine and BMT team , working with the Project Team, in taking the design from a set of requirements, on to several concepts, and through the Class design stage. The HMCS Harry DeWolf represents the successful collaboration of Canadian industry to deliver a novel and flexible ship that will serve her crew and country well for decades to come. The Vard Marine team is proud to be a part of reinvigorating the Canadian shipbuilding industry through the AOPV program and the Canadian National Shipbuilding Strategy (NSS)."
Harry DeWolf will remain docked at Canadian Forces Base (CFB) Halifax while the Navy conducts post-acceptance trials to verify major ship systems and overall performance while providing an opportunity for the Navy to conduct crew training. Once the training and post-acceptance work is complete, the ship will undergo a formal commissioning ceremony (summer 2021) and officially enter active service.