Helsinki Shipyard laid the keel of the second luxury expedition cruise ship
NB 517 is the second of three vessels ordered by Swan Hellenic from Helsinki Shipyard.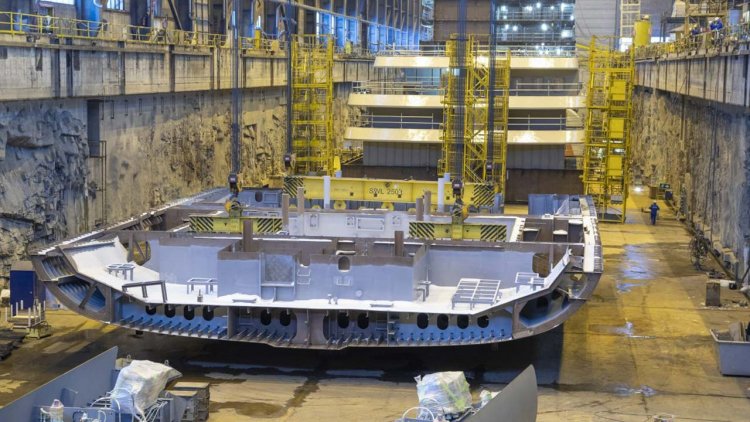 Photo: Helsinki Shipyard
The keel of NB 517 was laid in accordance with the seafaring traditions and taking into account the current restrictions due to COVID-19.
The keel was laid with outfitted and painted block 302 that arrived at the shipyard just at the right time, during the previous weekend. In the keel laying ceremony the representatives of the client and classification society, as well the project and shipyard management were present.
The vessels being built at Helsinki shipyard represent the next generation of polar expedition vessels, and once delivered they will sail worldwide with a strong focus on high-latitude areas.
The two first 113-meters long vessels ordered from the shipyard will carry 152 passengers and 120 crew members after their delivery. The vessels will feature a 4,6, MW diesel-electric hybrid propulsion system with selective catalytic reduction and a 3-megawatt max. battery package. Gross tonnage of the vessels is 10 500 ton, and they have PC5 ice-strengthened hull.
The first vessel of these series will be delivered during year 2021 and the one that celebrated its keel laying now will be handed in the first months of year 2022. The third vessel NB 518, being a bit bigger than her sisters, will be delivered to the client as well in year 2022, at the end of the year.
The Project Manager of NB 516-517 Jonas Packalén commented:
"Newbuildings NB 516 and NB 517 are designed for extreme weather conditions, from one side for polar areas where they can meet quite heavy ice conditions, and from other side for tropical regions. And they are naturally designed to respect the sensitive ecosystems of the regions where they're going to sail."