First American-built offshore wind substation complete
The substation is transiting across the Gulf of Mexico and then up the East Coast for installation at the South Fork Wind project site in a few weeks.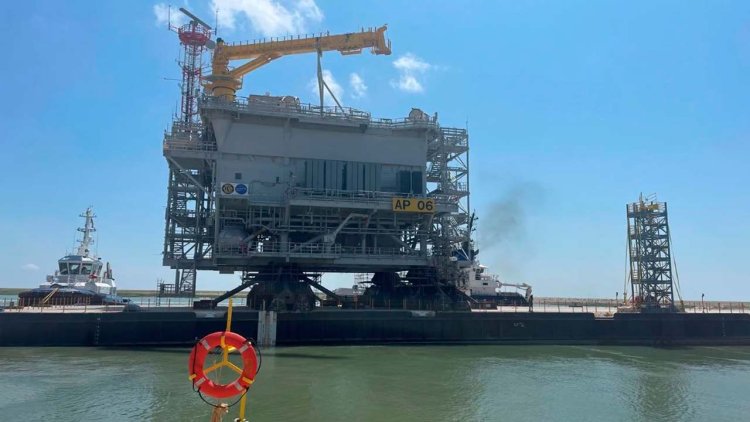 Offshore wind joint development partners Ørsted and Eversource have marked the "sail away" of the first American-built offshore wind substation, which departed a Texas fabrication facility yesterday.
Kiewit Offshore Services, Ltd. (Kiewit), the largest offshore fabricator in the U.S., designed and built the substation, which will be deployed at Ørsted and Eversource's South Fork Wind project serving Long Island, New York, and set to begin operations by the end of this year.
Kiewit built the 1,500-ton, 60-foot-tall substation at its Ingleside facility near Corpus Christi. The substation will play a key role in enabling domestic energy production, strengthening America's energy independence and adding to the nation's energy mix.
The Kiewit team's work is just one of several ways that Texas – and the Gulf of Mexico region – is playing a central role in the buildout of a new domestic offshore energy supply chain. America's first wind turbine installation vessel, Charybdis, is under construction, in Brownsville. Ørsted and Eversource will be the first offshore wind developers to charter the Charybdis.
More than 350 workers across three states supported construction of this South Fork Wind substation, a topside structure that will sit on a monopile foundation within the wind farm, collecting the power produced by wind turbines and connecting it to the grid. The substation was designed and engineered in Kansas, fabricated in Texas, and will be installed in New York.
"We're putting American ingenuity to work as we build out a domestic offshore wind energy supply chain with investments and job opportunities spanning the Northeast, down to Texas and across the Gulf Coast region," said David Hardy, Group EVP and CEO Americas at Ørsted. "The completion of South Fork Wind's offshore wind substation is yet another first for this groundbreaking project and moves us one step closer to the project's first 'steel in the water.'"
"South Fork Wind continues to demonstrate the enormous power of offshore wind to create a new, American-based supply chain as we work to grow the clean energy industry here in the United States – spreading economic opportunity to workers and local communities across the nation," said Mike Ausere, Vice President of Business Development at Eversource Energy.