CSA completes oyster reef survey using multiple ASVs
Surveying the waters off Pascagoula comes with inherent local challenges.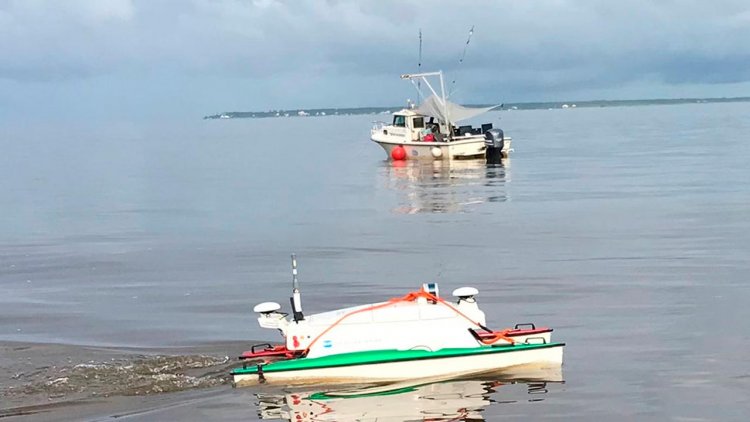 Photo: CSA
CSA Ocean Sciences Inc. (CSA), an international marine environmental consulting and survey company, recently completed an expansive bathymetric survey of oyster reefs in the waters off Pascagoula, Mississippi for Cypress Environmental, an environmental services agency to the energy and municipal water industries, aided by two Autonomous Surface Vessels (ASVs).
This simultaneous multi-vessel deployment resulted in the successful completion of over 400 miles of survey lines and rendered critical geomatic data pertaining to the overall health of oyster reefs in the region, which are monitored by the Mississippi Department of Environmental Quality (MDEQ) as part of ongoing remediation efforts following the Deepwater Horizon incident of 2010.
The survey took place in June 2021, when two SR-Surveyor M1.8 (SeaRobotics) ASVs equipped with single beam and interferometric sonar systems were launched as "data collection force multipliers" in Pascagoula Bay and the West Pascagoula River from a nearby 20' survey vessel. The data collected will ultimately be submitted to MDEQ for further analysis as part of their ongoing environmental monitoring program.
Oysters play a critical role in the healthy function of the estuarine ecosystems in the Gulf of Mexico (GOM). The Deepwater Horizon oil spill and response efforts severely impacted nearshore oysters, subtidal oysters, and oyster recruitment in the surrounding waters, and so access to quality geophysical habitat data is a key component to advancing MDEQ's framework for oyster restoration.
Surveying the waters off Pascagoula comes with inherent local challenges. Strong currents can often jeopardize the capture of robust and reliable bathymetric data and the shallow water tends to hinder access for conventional survey vessels, but the synchronized efforts of the tightly integrated ASVs proved instrumental to ensuring comprehensive coverage.
Kevin Peterson, CSA's CEO, said:
"Thanks to their minimal draft, ample propulsion, and precise line keeping abilities, the two rapidly deployable ASVs not only allowed us to negate some of the typical challenges of operating in less calm and hard-to-reach waters, but it enabled our field team to complete the mission in a timeframe at least 50% faster than would have been possible if solely reliant on a traditional crewed survey platform."