Cafimar Group opts for Med Marine's proven tug
The delivery of the tug boat is set for the end of 2020.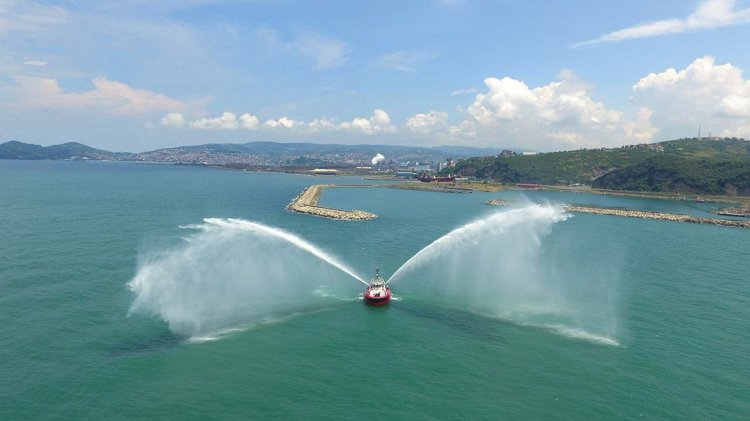 Photo: Med Marine
Med Marine and successful Italian operator Somat S.p.A., part of Cafimar Group, inked a deal for a MED-A2575 model tugboat for which the contract was remotely signed last week.
MED-2575 model belongs to RAmparts 2500W design series by Robert Allan Ltd. and it is the one of the most versatile ASD tug design for ship-handling, coastal towing, general purpose or escort duties. After being in the sector for more than 25 years as an operator and builder, Med Marine shared its own expertise knowledge input to Robert Allan during the design stage of MED-A2575.
Once delivered, MED-A2575 model tug (Hull Name: EREGLI 83) will operate in Sicily. Med Marine has already built and delivered eight units of the design with different main engine and propulsion profiles in previous years. Med Marine is also operating MED-A2575 tugs in its national fleet in Turkey, hence the company is well aware of the operational aspect.
Melis Üçüncü, Sales Manager from Med Marine said:
"We are pleased with this new contract from Somat S.p.A. and appreciate their trust in Med Marine especially during these difficult times affecting all sectors on a global scale. We have a very strong expertise in building tug boats including MED-A2575 models as we not only build and deliver them internationally but also operate them in our national fleet. Italy is a location that we are well up on. Therefore, we know that ER83 is a perfect match for Somat S.p.A."
Alessandro Russo, CEO of Cafimar, expressed his thoughts about this new collaboration with following words:
"We are very happy to increase our fleet with a MED-A2575 tugboat; this addition allows Somat S.p.A. to offer its services in Sicily with greater versatility. Med Marine met our requirement in a very prompt manner"
The tugboat's general specifications include:
LENGTH O.A. 25,20 m
BEAM 12 m
DEPTH 4,60 m
BOLLARD PULL 70 tons
SPEED 12 knots
MAIN ENGINE 2 x CAT 3516C 2100 kW @1600rpm
PROPELLER Rolls Royce (Kongsberg) US255SP30 FP
GENERATOR SET 2 x CAT C4.4 99 ekW @ 1500 rpm, 50hz
FIFI E SYSTEM 1 x 1400 m3/hr. Pump, 2 x Foam/water monitor
ACCOMMODATION 7 people