bremenports: Seven projects for a climate-neutral port
bremenports submits funding application to Berlin with detailed project outlines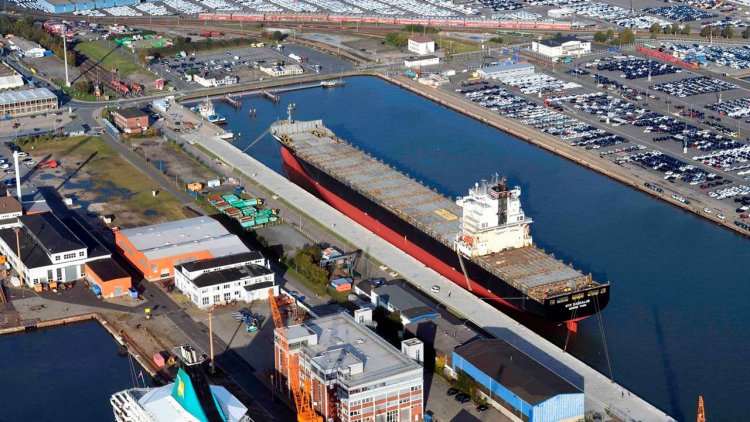 Photo: bremenports
"H2Bx.MariTransGate" stands for one of the most ambitious projects to promote climate protection and the transition to green transport in the Federal Land of Bremen.
As part of a nationwide competition, bremenports has now submitted a comprehensive "IPCEI Expression of Interest" in cooperation with Bremerhaven Economic Development Company BIS.
bremenports Managing Director Robert Howe explains:
"On submitting this application, we plan to make Bremerhaven a flagship test area for hydrogen technologies in the maritime transport sector. The important thing about this is that the seven individual projects presented in the overall application are all closely interlinked. The 180-page project outline covers the production of green hydrogen from renewable energy sources, specific fields of application in Bremerhaven as an international transport node, as well as the import of hydrogen. It is hoped that these projects will generate important impetus for the promotion of hydrogen technologies in port operations as part of the transport sector."
The competition was organised by the Federal Ministry for Economic Affairs and Energy, the Federal Ministry for Digital Infrastructure and Transport, and the Federal Ministry of the Environment. Funding is available for projects which are suitable for generating important impetus for implementation of the national hydrogen strategy.
IPCEI stands for "Important Project of Common European Interest", i.e. key transnational projects which play an important role for growth, employment and competitiveness of the European industry and economy with the help of government funding. IPCEI projects are intended to promote the strategic goals of the European Union (EU) and create positive effects in the entire EU.
Robert Howe states:
"By opting for a broad base for our funding application, we are confident that Bremerhaven, as a European seaport and national trimodal transport hub, can contribute to the hydrogen strategies that are currently being drawn up on a European, national and local level."
To achieve this aim, additional renewable energy is to be generated at the ports and used to supply a "port electrolyser", which will produce hydrogen and thus promote the integration of renewable energy in the overall energy supply for this area. The green hydrogen that is generated will be used to power port and transport applications, such as mobile power packs, ship engines, shunting locomotives, trucks and, at a later stage, handling equipment.
It is already evident that the demand for hydrogen and its derivatives will increase over the medium term: the transition to hydrogen in Bremen's steel producing industry is a clear indicator of this trend. Another central element in preparing for this change will be to establish import and distribution structures and to integrate carbon capture and carbon transport chains at the port.
The consortium headed by bremenports and BIS would welcome the support and participation of other project partners for the next planning phases and subsequent implementation. It is hoped that this process will receive targeted support from the German federal government, the governments of the individual German Laender and the EU.
Nils Schnorrenberger, Managing Director of BIS says:
"The "Green Hydrogen for Bremerhaven" project is being conducted by highly respected research partners and has already received funding of 20 million euros from Lower Saxony and the European Union (ERDF). This project is the first step towards establishing a hydrogen competence centre in Bremerhaven. The next module in this strategy is the project for which we have now applied for funding, the Test Area for Hydrogen Technologies, and is intended to generate important new impetus for further hydrogen projects. The close cooperation between the project partners to set up a common competence centre in Bremerhaven is the right approach and also brings Bremerhaven to the attention of business enterprises from other areas."