Breakthrough as 'flying yacht' produces green hydrogen in world-first
DRIFT Energy produces green hydrogen from its first purpose-built hydrofoil sailboat on its maiden voyage. Green hydrogen has not been produced in this way before anywhere in the world.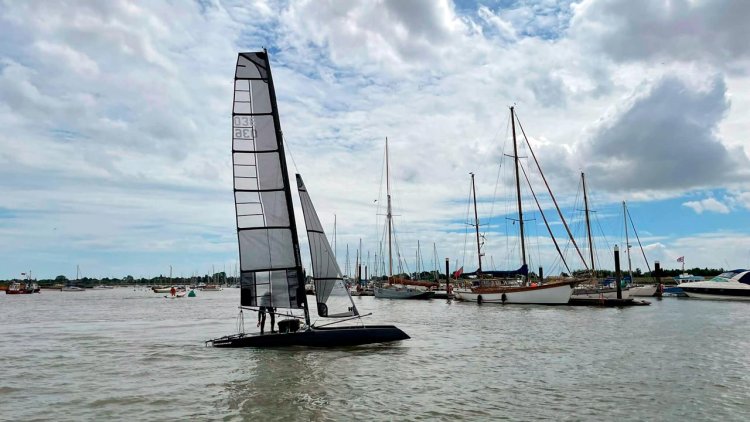 Photo: DRIFT Energy
DRIFT Energy has successfully produced green hydrogen gas using its first purpose-built hydrofoil sailboat in sea trials. Green hydrogen - ultimately destined for commercial use in the net zero transition - has not been produced in this way before anywhere in the world.
The sea trials of these ground-breaking energy yachts took place off the coast of Brightlingsea, Essex earlier this month.
The trials managed to produce approximately six liters of green hydrogen over a two-hour test run. The trial was so successful that the energy yacht outperformed expectations and could have produced over ten times more of the green renewable gas.
DRIFT, having proven the concept are progressing plans for vessels capable of 250,000 liters per hour or more.
DRIFT Energy's business is pioneering this type of energy yacht design, but the secret ingredient is in using the power of data to find optimal weather conditions in which to route the vessels when at sea. This routing algorithm is critical to DRIFT's operations and unlocks a unique advantage over other renewable classes, by making green energy mobile.
Artificial intelligence firm Faculty found that a flotilla of DRIFT's energy yachts, operating from Penzance, could achieve a load factor of 72.5 per cent.
By comparison verified load factors for wind turbines in the UK are 26.5 per cent for onshore wind farms and 39.9 per cent for offshore wind farms.
Faculty's research into wind speeds across the North Atlantic indicates a load factor of 77 per cent could be achieved off the coast of New York and, at some locations in the mid-Atlantic, load factors of 82 per cent could be attained.
Faculty was asked by DRIFT to develop a routing algorithm that can continually optimize the course of the vessels to maintain the highest possible utilization of the ship.
DRIFT's boats will sail the ocean, which has wind speeds, wind orientations and wave heights that vary by the hour. Given a forecast of the environmental conditions, the task was to determine how far the rate of energy generation can be optimized over a specific time window.
In optimizing the route, rather than just look at the next best move the boat could make, Faculty's algorithm looks several time-steps ahead so that it can take a more strategic approach to where the best winds will be – just like a chess player viewing a board.
The next phase of the work may look at issues such as the positioning of offshore docks, energy potentials in other oceans such as the Pacific and the impact of climate change to routing behaviour.
To benefit from the load factors uncovered, DRIFT intends to conduct further sea trials, and increase the number of boats available to generate energy.
DRIFT's energy yacht was built by the White Formula of Brightlingsea, a third generation boatbuilder with Olympic gold medal winning heritage.
The energy yacht started out as a pre-loved second hand vessel originally made by White Formula, called a 'Whisper'. Reuse is important to the sustainability values of DRIFT, and the high-performance and stability of the Whisper made a great platform for development.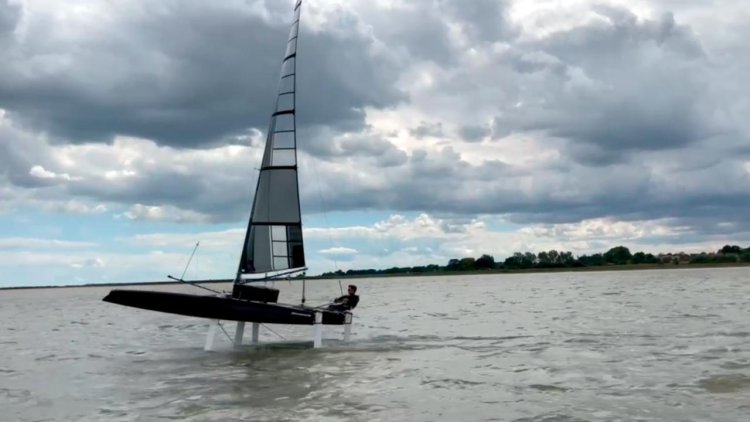 Ben Medland, Founder and CEO, says:
"This is a real breakthrough in the creation of a net new renewable energy class – which is both mobile, scalable and anti-fragile.
"We knew from computer modelling our concept had huge potential as it is essentially a mosaic of proven technologies such as commercial electrolysis units, turbines and hydrogen storage tanks. These first sea trials prove our energy yachts work in the real world.
"Our vessels allow us to generate energy in the so-called Goldilocks wind zones – where the wind is just right – on the world's oceans and then deliver it to wherever it is needed. It is very exciting."
Andy Perry, Director of Energy Transition and Environment at Faculty, said:
"The UK needs radical new ways to generate clean green energy if it is to reach net zero by 2050.
"Using AI to find the best sailing route to generate the most power in the shortest time means this new renewable energy class can make a meaningful contribution to the energy transition to a low carbon future.
"AI is a force for good, and we will continue to help society and our customers meet their challenges through the transformational power of this technology."
Rupert White, the professional sailor who helmed the first DRIFT Energy demonstrator vessel during the sea trials, and ex-Team GB squad member (Rio 2016 and Tokyo 2020 summer Olympics) said:
"I had the privilege of sailing the DRIFT demonstrator and making the world's first foiling hydrogen."
"Since my departure from the Olympic team this has been the coolest job I've had."
Rupert is one of four brothers in the family business White Formula. The White family has been boat building and collecting sailing medals on the world stage for three generations.
Brother, Thom White, Managing Partner, White Formula, said of building DRIFT's first vessels:
"When I was approached by Ben at DRIFT to look at a hydrogen generation at sea utilizing a sailboat, I was intrigued to say the least."
"My family has been sailing and boat building for three generations, with Olympic golds and speed sailing records. So we like to think we have seen it all… But DRIFT is that unique."
"To be chosen once again to be at the forefront of sailing technology development is humbling, but this time we have the opportunity to help our planet. Something we care deeply about."