At least 7 dead after passenger vessel catches fire
The vessel was carrying 124 passengers and 10 crew members when it caught fire soon after setting off at dawn from Polillo Island.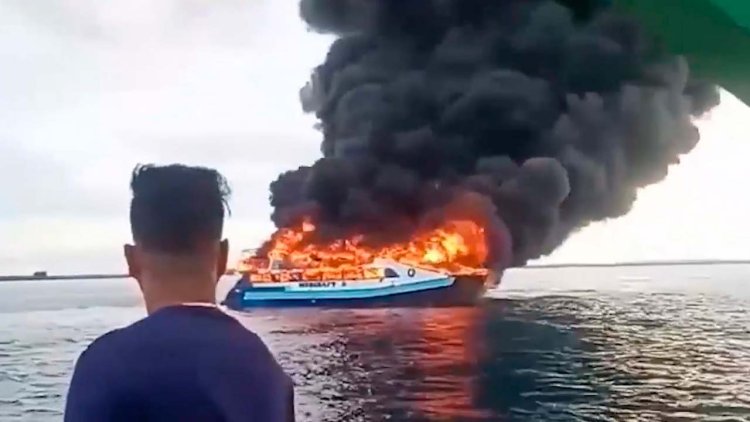 At least seven individuals were declared dead while 24 were injured after a high-speed vessel caught fire on Monday morning as it was approaching the port of Real in Quezon province, the Philippine Coast Guard said.
The MV Mercraft 2 — with a capacity for 186 people — was carrying 126 passengers and 8 crew members when it left Polilio Island around 5 a.m. for Real. The fire quickly engulfed the ferry, forcing its passengers to jump into the sea, officials said.
Coast guard spokesperson Armand Balilo said three are in critical condition, while 21 others are being treated for a number of injuries at the Claro M. Recto Hospital in Real, Quezon as of Monday afternoon. The vessel's captain was among those rescued. A team of investigators was on the scene to determine what caused the fire. Some 120 people had been rescued as of midmorning Monday. The families of the fatalities have also been notified of the incident, Armand Balilo added.
Balilo said it was not the first accident involving the company that owned the Mercraft since a similar tragedy happened in 2017. That ship, the Mercraft 3, had been carrying 251 people when it sank off the coast of Infanta, not far from where Monday's accident occurred.
He said he expected the victims to claim insurance while discussions with the company on other assistance is still ongoing.
"Our marine casualty investigation (team) is now in the area to find out what really caused the fire," he told CNN Philippines' Traffic Center. "This is our priority."
Accidents involving boats are common in the Philippines, an archipelago of more than 7,100 islands where travel by sea is the cheapest mode of transportation.
In 2008, at least 800 people were killed when the Princess of the Stars capsized during a storm in the central Philippines, while a 1987 collision between the ferry Dona Paz and an oil tanker killed more than 4,300, in what is considered one of the world's worst peacetime maritime disasters.