ABS awards smart notation to AET's Eagle Passos
The first shuttle tanker to have smart capabilites recognized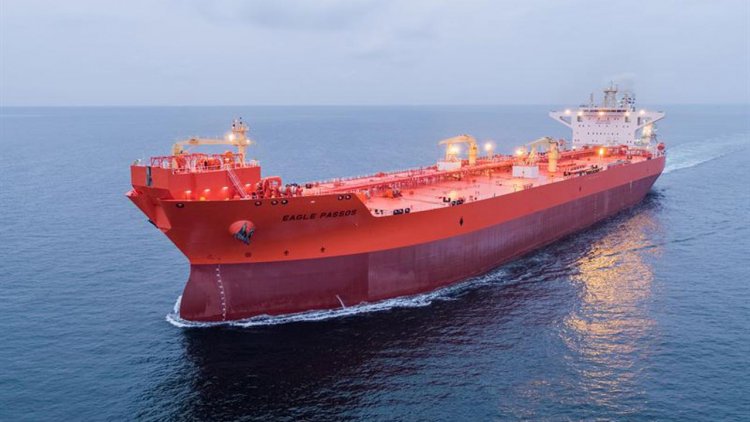 Photo: ABS
ABS has awarded AET the SMART (INF) Notation for its 152,700 DWT DP2 shuttle tanker, Eagle Passos, which was built and delivered by Samsung Heavy Industries Co., Ltd. (SHI).
The first shuttle tanker to be granted an ABS Smart Notation, which recognizes the vessel's data communication and network infrastructure, Eagle Passos will also be granted the Operational Performance Management (OPM) and Crew Assistance and Augmentation (CAA) class record comments in recognition of the optimization, monitoring and reporting smart functions. These are delivered through SHI's SVESSEL platform, which is designed to expedite the transition from analog-based conventional ship systems into a digital-based lifecycle vessel management approach.
SHI Director of Ship and Offshore Research Institute, Vice President, Dr. Yong-Lae Shim, said:
"We are delighted to support AET with the latest smart ship solution SVESSEL, which is developed to complete digitalization of the vessel. We expect to see a large number of SVESSEL to be applied in the marine and offshore industries in the near future and to contribute to the transition to digitalized smart ships."
Patrick Ryan, ABS Senior Vice President, Global Engineering and Technology, said:
"As a leader in maritime digital technologies, ABS is proud to be working with industry leaders such as AET and SHI to deliver advanced digital capabilities for the marine and offshore industries. The Smart Infrastructure notation recognizes that the hardware and software of the SVESSEL platform are designed and installed to support the rich data streams that can be leveraged to support enhanced maintenance, operational efficiency and safety capabilities. ABS is pleased to award this notation to a shuttle tanker as an industry first."