Volkswagen Group with partners unveiled two new LNG powered car carriers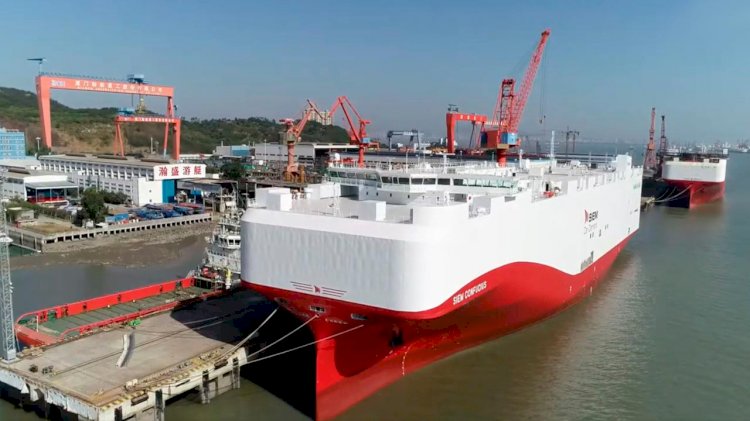 Commissioned exclusively for Volkswagen, the two ships – named Siem Confucius and Siem Aristotle – mark a critical turning point in how the industry's biggest players are working together toward a future of sustainable marine transport.
Both ships are the first overseas car freighters in the world to be powered by clean burning liquefied natural gas (LNG), something that Volkswagen believes will contribute significantly towards it 'goTOzero' emissions strategy.
Christiane Eckert, Director of Group Strategy and Ecology at Volkswagen, says:
"It's a very big milestone on our way to zero emissions shipping. For us at Volkswagen it's important not only to talk about real investments in protecting the environment, but to actually act on it. It's a really strong statement for us."
The LNG-powered ships are set to replace two of the nine conventional oil-powered vessels currently used by Volkswagen on the Atlantic route between Europe and North America. Siem Confucius will begin shipping from beginning of 2020 after its transfer from Xiamen to Europe, while the second ship Siem Aristotle will start operations from spring 2020.
Thomas Zernechel, Head of Group Logistics at Volkswagen, comments on the ships' strategic importance for Volkswagen Group's logistics:
"We are entering a new field here to reduce emissions. In addition to the increasing use of LNG trucks, conversion of our many rail transports to green electricity and the use of biofuel in the short sea segment, the two new LNG ships represent an important building block for our strategic goal of climate-neutral logistics."
Both measure in at a hefty 200 meters by 38 meters and feature 13 car decks with a capacity of 7,500 CEU (car equivalent units), which will enable them to transport about 4,700 vehicles of the Volkswagen model mix in a single journey.
This makes them almost six meters wider than the car carriers currently in use, largely due to the additional space needed for two 1,800 cubic meter liquid gas tanks. To maintain the same freight capacity as conventional vessels, the ships were built significantly wider.
Once operational, both Siem Confucius and Siem Aristotle will have an average "eco-speed" of 16.5 knots and a full service speed of 19 knots, powered by a 12,600kW engine developed by MAN Energy Solutions. The real innovation, however, comes in the form of its reduced harmful emissions and particulate matter. The LNG engines can reduce carbon dioxide emissions by up to 25 percent and sulfur oxide emissions by up to 100 percent per ship. On its round trip voyages between Germany and the USA, the two car carriers will be fueled with LNG in Jacksonville, USA, and Emden, Germany, where two bunkering spots are available.
Put simply, these are among the most modern, efficient and eco-friendly ships in the world, according to Kenneth Ross, CEO of Siem Car Carriers:
"If you look at everything from their optimized design, speed reduction, the shape of the bow, even the quality of the paint – it's a genuine breakthrough. It's probably the most innovative project we've ever been involved with."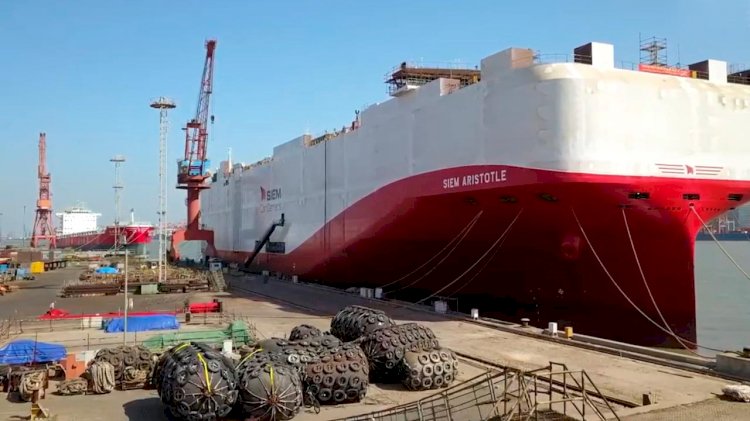 Ross says shipping is traditionally a slow-moving and capital-intensive business that tends to focus on compliance over innovation. But this project forced the company to rethink this position and put innovation at the core. He says:
"When Volkswagen first came to us we fell back into a standard ship owner response and looked for technologies that would bring us to compliance, but compliance alone was not enough. Volkswagen were very clear that they wanted something much more than just compliance. It was something inspired by a vision of the future."
That vision of the future was a compelling proposition for MAN Energy Solutions, which was tasked with powering this industry-first initiative. Mikael Adler, the Shanghai-based Vice President & Head of Asia Pacific and Engines & Marine Systems at MAN Energy Solutions, says the project highlighted a very important strategic objective of his company – decarbonization. Adler says:
"It's a strong signal to send the market that technological change is here. Ship owners generally can be quite conservative, so I'm really happy that we have made this first major step. It's very significant for us and we want to show the world that we have this clean technology. I think we will now see the LNG boom take hold."
But LNG is just a first step on the road to decarbonizing the maritime economy. Adler says:
"On the long run we will need fully carbon-neutral synthetic fuels. We see tremendous potential in the Power-to-X technology which allows the generation of 100% climate-neutral natural gas from renewable energy. Any LNG-powered ship can also run on synthetic natural gas – so the Confucius and Aristotle are perfectly prepared for a climate-neutral future."
During a meeting of the United Nations International Maritime Organization (IMO) in London last year, a global strategy to reduce greenhouse gas emissions by at least 40% by 2030 and 50% by 2050 was put into place. This included specific references to CO2 emissions reduction and a plan to phase them out entirely within this century. Targets like these are also a driving force for Volkswagen, which is now looking for significant change within its global workforce of some 660,000 people and right across its supply chain.
Eckert says:
"We are going to have a good look at the behavior of all our suppliers. It's not just us acting on this initiative, we are trying to bring our partners on board who share the same vision. If you don't have a strong vision you have nothing to accomplish."
Eckert added that Volkswagen is aware of what this change means for suppliers and says there must be a win-win situation for everyone involved:
"If we can move forward in this direction then we hope others will follow us on this path. I think we can do quite a lot of things and investing in ships like these with low emissions is a good place to start."
For Mikael Adler, the partnership represents something much deeper and more significant:
"To have partners like Siem and Volkswagen pushing for cleaner solutions, it makes me very happy. It's been a huge global operation that has kept all our 130 offices around the globe engaged. There's a lot of stakeholders all over the world and it's been a great challenge."
Ross says both Confucius and Aristotle are already 2050 compliant and the launch in Xiamen shows that the IMO target can be reached much faster than 2050:
"Any ship owners who are thinking about what they're ordering today should be concerned about the life of the ship which they order if it's running on oil. It may have a much shorter than they've come to expect in the past. But if a ship owner like us can work together in partnership with all the major players from equipment suppliers like MAN to Volkswagen, then we can achieve something truly great."