SMD supplies ROV system to Asso.subsea
Greece based Asso.subsea have taken delivery of an SMD Quasar 150hp 1000m rated work class remotely operated vehicle (ROV) complete with Launch and Recovery system (LARs).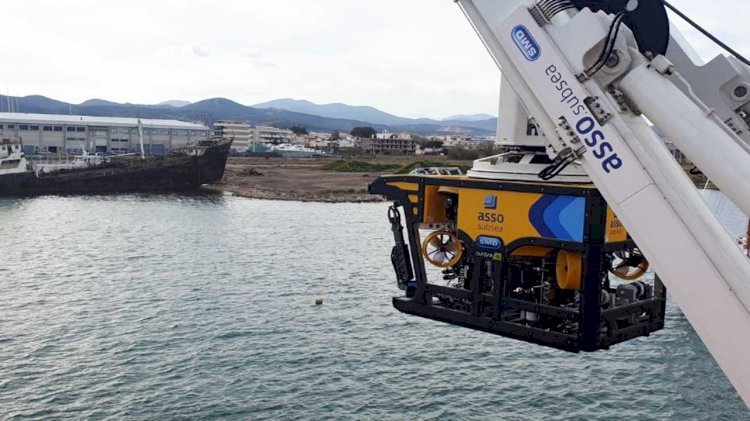 Photo: SMD
The work class ROV system complements their existing fleet, which includes two 100hp 3000m rated Atom ROV systems, originally delivered in 2012 and 2014 respectively and an SMD pre-lay plough delivered in 2018. The Quasar will be installed onboard Asso.subsea Astrea DP2 Multi-Purpose Service Vessel to support cable laying, protection and repair.
The Quasar is SMD's medium size work class ROV offering high-current performance and good tooling/instrument carrying capability, along with stability in strong currents. It is equally capable of salvage and construction operations using its isolated hydraulic system which can run high power tools. Access to the vehicle's quick release Curvetech™ multiplatform components is fast and easy decreasing maintenance time and increasing availability.
Paul Davison, Managing Director of SMD's Equipment business commented:
"Asso.subsea commitment to purchase a fourth system from SMD is testament to the performance of our products and through life support we give our customers. They have two of our Atom Work Class ROV systems and a pre-lay Plough system already in their fleet. We are delighted they continue to choose SMD equipment to further extend their capabilities."
Asso.subsea, commented:
"We are delighted to welcome the 3rd ROV system from SMD to Asso.subsea ROV fleet. Asso.subsea steady growth goes hand in hand with a well proven collaboration with SMD. The delivery of the Quasar will raise the profile of ROV services within the suite of services offered to our clients".
SMD is an advanced global supplier of subsea remotely operated and autonomous power and control solutions. Operating across a number of technology areas, SMD specialise in subsea trenching, work class ROVs, submerged mining and vessel deck equipment, as well as providing a range of subsea components through the highly successful Curvetech™ brand. SMD Services offer the capability, resources and expertise to support clients in multiple operations, throughout the lifespan of their equipment; around the clock and on a global scale.
Asso.subsea Group (formerly known as Assodivers), established in 1976, specialise in the provision of turn-key services for submarine cable installation, protection and repair projects utilizing specially designed equipment and marine means. Acting either as a turn-key solution contractor or as a subcontractor, Asso.subsea has been involved nationally and globally in a variety of projects for some of the leading cable manufacturers of the Telecommunication, Power and Alternative Energy Industries such as Alcatel, Fulgor, Nexans, NKT, NSW, Prysmian and service owners such as OTE, PPC, DEDDIE and Terna.