SMD delivers £multi-million SeaRex upgrade for Prysmian
Soil Machine Dynamics (SMD) has delivered a multi-million upgrade to the SeaRex trenching vehicle for long-standing customer, Prysmian.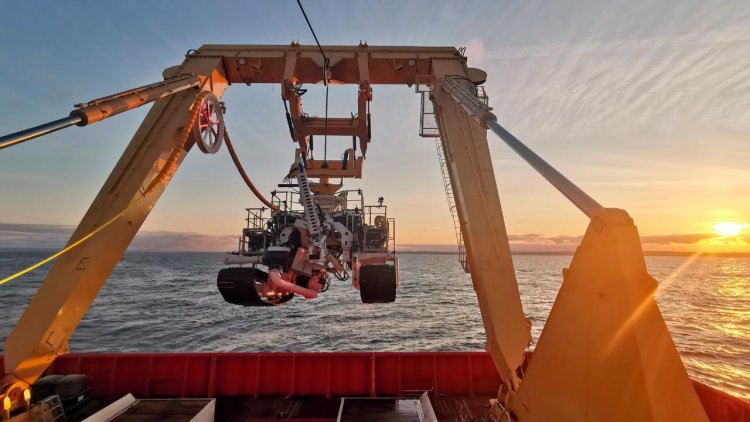 Photo: SMD
The project has seen the delivery of two new state-of-the-art cassettes for the upgraded BT2100 SeaRex tracked vehicle, including a wheel cutter and a chain cutter, enabling the trenching of power and telecommunication cables in ground ranging from dense sand, stiff clay and rock, in both shallow and deep water. The BT2100 SeaRex vehicle was first commissioned by NSW (now part of Prysmian Group) from SMD in 2012.
The new chain cutter cassette, capable of cutting a trench 700mm wide and 2.5m deep, was delivered in August 2020 and has already been deployed on an interconnector power cable between the Greek island of Crete and mainland Greece. The wheel cutter is capable of cutting a trench 450mm wide and 1.5m deep. Both cassettes will handle and trench power cables up to 350mm diameter with a unique loading mechanism that minimises the lifting height and therefore contact stresses on the power cable. This design has been developed in partnership with Prysmian to handle both light and heavy weight cables for high voltage power transmission. Safe handling of the product is at the heart of any successful vehicle design.
Both wheel and chain cassettes are interchangeable with existing pre-lay tools and these additions have re-launched SeaRex into the trenching market as a very capable and versatile multi-functional tool. The upgrades to SeaRex draw on SMDs 50 years of experience in designing and manufacturing heavy duty trenching vehicles to provide a reliable solution for protecting power cables in hard ground. Its cassette tooling and innovative design allows customers to invest in core vehicles in the knowledge that they can be repurposed in the future.
Commenting on the project, Robert Eddon, Key Account Manager from SMD, said:
"The SeaRex was first commissioned by NSW in 2012 and the upgrade represents another milestone in our longstanding relationship. Over the years we have designed and manufactured ploughs, trenching ROVs, LARS and a range of multi-functional tools and attachments for Prysmian. The reliability and quality of our equipment is key to maintaining the confidence of our clients."
A spokesperson for Prysmian said:
"The conversion of our SeaRex to enable post-trenching mode represents one of the most advanced post-lay burial vehicles in the market. Its capabilities in protecting cables within a hard seabed adds new features to Prysmian's portfolio of assets, providing customers with a quality service.
SeaRex's unique cable loading and unloading design, soil cutting power management, and trench cleaning system has been designed in close collaboration between Prysmian and SMD. The project merges the subsea technology design leader with the knowledge of the world-leader in cable manufacturing and installation, providing a unique solution to safely protect high-value cables in complex environments."