Port of Oakland okays plan for green upgrades at TraPac terminal
The Oakland Board of Port Commissioners approved an ordinance that will make huge strides in reducing emissions from cargo handling equipment at TraPac, a key marine terminal at the Oakland Seaport.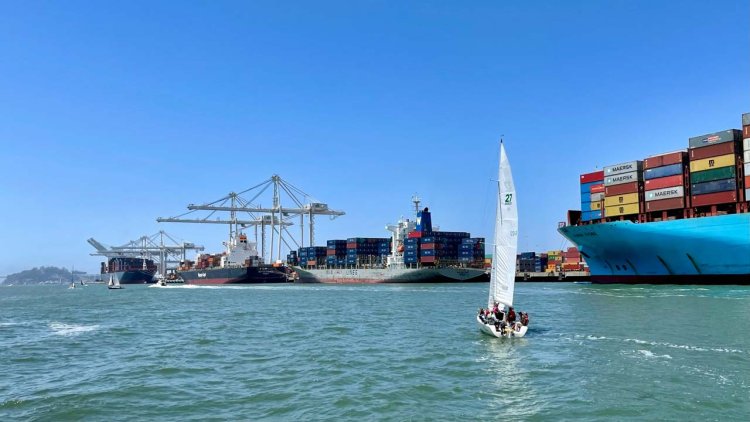 Photo: Port of Oakland
Port Commissioners unanimously voted to amend terminal operator TraPac's lease to include green upgrades to cargo handling equipment at its terminal facilities.
"This is a vital step towards our plan to become a zero-emissions seaport," said Port Board President Barbara Leslie. "These investments in hybrid cargo handling equipment will cut diesel emissions by 95 percent."
TraPac will retrofit three rubber-tired gantry cranes (RTGs), converting them from diesel fuel to hybrid-diesel fuel, reducing emissions from this equipment by 95%. This transformation will take place by the end of 2024, subject to Trapac securing grant funding.
"This landmark lease agreement will bring the port closer to its goal of achieving zero emissions operations," said Port Executive Director Danny Wan. "We have multiple projects underway that are modernizing the seaport and building the Port of Oakland into a hub of zero emissions innovations."
TraPac will also purchase four new hybrid RTGs by the end of 2024, which will similarly reduce emissions by 95%.
"We appreciate the fact that our tenant, TraPac, is collaborating with us on the large investments needed to implement these major changes in cargo handling equipment," said Port of Oakland Maritime Director Bryan Brandes. "Oakland is an efficient and convenient seaport for importers and exporters and TraPac is stepping up by going green."
The Port of Oakland is providing a financial incentive for TraPac. It will reimburse TraPac up to 35%, or $945,000 - whichever is less - for the cost of the RTG retrofits. While TraPac, alone, will finance the cost of the four new hybrid RTGs.
The passage of this legislation is significant because it is the first time a terminal operator has been called upon in a Port of Oakland lease agreement to upgrade cargo handling equipment to significantly reduce emissions.
TraPac has been operating at the Port of Oakland since 1991. The company underwent a two-year expansion project beginning in 2016 that nearly doubled its footprint at the port. TraPac's latest investment highlights their confidence in the Port of Oakland as they invest in long-term success through upgrades of their facilities and equipment.