One of the largest cruise ships in Germany was built for NCL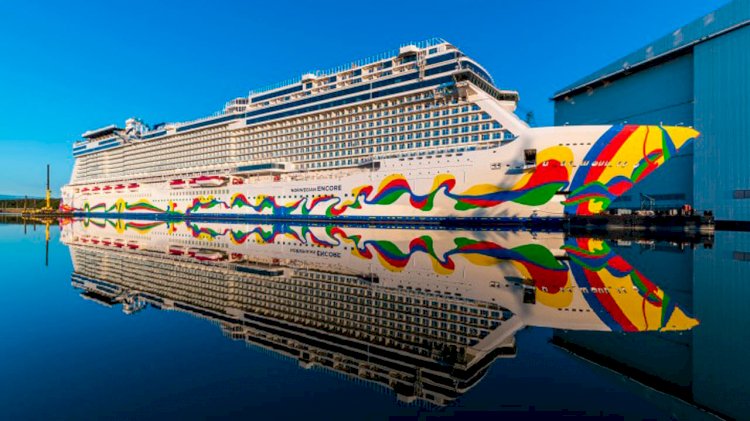 The new cruise ship for Norwegian Cruise Line (USA), Norwegian Encore, will probably leave Papenburg on Monday, September 30 2019 to be conveyed on the river Ems to Eemshaven (Netherlands).
The ship is planned to arrive in Eemshaven on Wednesday morning. Later on the ship will go through several days of technical and nautical sea trials on the North Sea before delivery to the cruise line end of October in Bremerhaven.
The Ems barrier will be helping Norwegian Encore to pass through the river Ems, a procedure which will be kept as short as possible. The following schedule has been drawn up for the conveyance of the new cruise ship, with changes possible at short notice due to the weather and tidal conditions:
A team of river pilots from Emden will be responsible for manoeuvring the ship to Eemshaven. The yard captain of MEYER WERFT also comes from the team of pilots on the river. The whole team trained the conveyance at the computerised simulator in Wageningen (Netherlands) to be better prepared for the task.
Norwegian Encore will proceed in reverse up the river Ems to the North Sea. This ap-proach has proven successful in the past as it makes it easier to manoeuvre the ship. Two tugs will be providing assistance in the process.
The cruise ship with 169,300 GRT is one of the largest cruise ships to be built in Germany with capacity for about 4,004 passengers. After completing the technical and nautical sea trials on the North Sea, the ship will be handed over to the owners end of October 2019.
Meanwhile, MEYER WERFT continues to work flat out on other ships: building dock II currently houses the Iona which is scheduled to be completed in spring 2020 for the British P&O Cruises and Odyssey of the Seas for Royal Caribbean International with delivery in autumn 2020, while Spirit of Adventure gets completed in building dock I. The ship for Saga Cruises (UK) is scheduled to be delivered in summer 2019.